After a certain age, female actors are only offered specific roles of 'mothers', irrespective of their skills and looks. Let's have a look at 8 examples from Bollywood movies where the Female actor played mother to actors who were older than them.
 Here are 8 Female Actors Who Played Mothers to Actors Who Were Older Than Them and Nailed It
1. 'Mother India': Nargis
Mother India is an Iconic Indian epic drama film starring 28-year-old Nargis as the mother of Sunil Dutt and Rajendra Kumar, who were the same age as Nargis's. Nargis delivered both, the role of a young wife and that of an old mother in the most terrific manner.
Story
Mother India is a story of poverty struck village women, Radha. The film begins in 1957, Radha who is considered the 'mother' of the village is asked to inaugurate the freshly constructed irrigation canal. As she stands there, she remembers her past when she was getting married.
Radha is married to Shamu. The expenses of the wedding are paid off by Shamu's mother, who borrows the money from Sukhilala, who is a moneylender. To compensate for the interest Shamu and Radha are forced to pay three-quarters of their crop.
One day while clearing out their unused, rocky land, a boulder crashes Shamu's arms, leading to the permanent loss of his arms. Shamu is deeply ashamed of his helplessness as he is completely dependent on Radha's earnings. He is constantly humiliated by Sukhilala and decides to leave his family permanently, he walks away early in the morning before anybody could wake up and probably die out of starvation.
Radha loses her youngest son and her mother-in-law.
The village is hit by a roaring storm and the floods swallow all the houses, ruining the harvest. Radha is offered help by Sukhilala if she agrees to trade her body to him in exchange for food. But Radha declines this offer which leads to the loss of his fourth son. Gradually, all the villagers started to evacuate the village but Radha insists they stay back and rebuild it, led by Radha.
Many years later, Birju and Ramu, the two surviving sons of Radha are grown-up men now. Birju, who has always been embittered by the demands of Sukhilala, extricates his frustration by annoying the village girls, especially Rupa, Sukhilala's daughter. While Ramu on the other hand is calm and sweet-tempered.
He gets married soon. As time passes, Birju's anger becomes menacing and when triggered, he ambushes Sukhilala and Rupa and also steals his mother's marriage bracelets that were pawned with Sukhilala. He becomes a bandit after being chased out of the village. Radha assures Sukhilala that she will not allow Birju to cause any harm to him and his daughter.
On Rupa's big day, Birju and his gang of bandits return to exact vengeance. He kidnaps Rupa and kills Sukhilala. Radha immediately shoots him as he tries to escape, and he takes his last breath in his mother's arms. The movie returns to 1957; Radha opens the canal's gate and its water flows into the fields.
Director: Meheboob Khan
Main Cast: Nargis, Sunil Dutt, Rajendra Kumar, Raaj Kumar
Genre: Drama
Where to Watch: Amazon Prime
Trailer: Mother India
IMDb Rating: 8.1
2. 'Vaastav': Reema Lagoo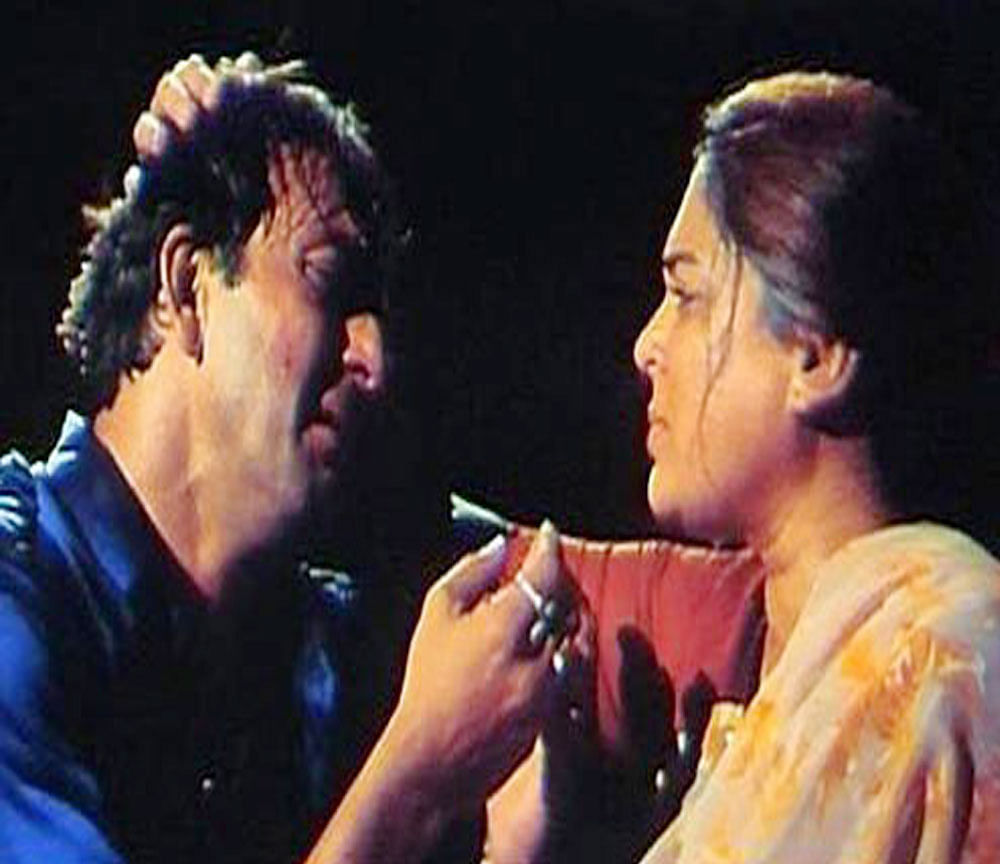 Vaastav: The Reality is a 1999 Bollywood action crime film. It's said the movie is loosely based on the life of Mumbai underworld gangster Chhota Rajan. But what's surprising is the fact that Reema Lagoo, who was 41-years-old then played the mother of 40-year-old Sanjay Dutt.
Story
The film opens with a family performing funeral rituals. The little son of the deceased asks his grandmother about his father, she starts to narrate the story.
Raghunath Namdev Shivalkar or "Raghu" and his best friend Dedh Footiya have a hard time finding work in Mumbai. Raghu lives with his retired father, mother, and an unemployed brother in a Mumbai Chawl. They conclude to run a pav bhaji stall. They work hard and are earning good profits.
The brother of a local goon and his gang start visiting their stall. Continuously for some days Fracture Bandya's drunk men visit the stall and abuse Dedh Footiya. Raghu advises Dedh Footiya to not get into an argument with them. But one-day fracture bandya's men knocked up Dedh Footiya badly.
After reaching their saturation point, Raghu and Dedh Footiya weren't able to control and accidentally to kill Fracture Bandya's brother, unaware of who he is. Soon they happen to kill Fracture Bandya and his men too when the latter tries to kill them both by arranging a meeting with Suleiman Bhai, who is a middle man in the Mumbai underworld.
Raghu and Dedh Footiya are now caught up in the underworld.
A rival gang lord, Vitthal Kaanya, offers Raghunath and Dedh Footiya protection. Later they both are hired by him as hitmen. Vitthal Kaanya hits a peak in the Mumbai underworld with Raghunath by his side. Babban Rao, the home minister approaches Raghunath and asks him to work under him.
Against the wishes of Assistant Inspector Kishore Kadam, a good friend of Raghu, who continues to help him by advising him by providing inside information, Raghu agrees to work under Babban Rao. Soon, Vitthal Kaanya is killed by rival gangsters.
Raghunath makes an error, and Babban Rao comes under serious pressure from the public and government. He arranges lethal forces against Raghunath. Dedh Footiya dies in an encounter. Then Kishore informs Raghunath that the police have been ordered to kill him in an "encounter".
Raghu now has to escape from both, Babban Rao's men the police. He also has to protect his family. He understands that he cannot escape all of this and decides to meet Babban Rao with the help of Suleman Bhai and kills Babban Rao. Suleiman Bhai is also killed in the process.
Raghu loses his mental balance and becomes crazy, he returns home to his mother, unable to save himself from the police. He begs his mother to kill him with his gun. She pulls the trigger and kills him. The film returns to Raghu's mother narrating everything to her grandson.
Director: Mahesh Manjrekar
Main Cast: Sanjay Dutt, Namrata Shirodkar, Mohnish Bahl, Shivaji Satam, Reema Lagoo
Genre: Action
Where to Watch: Amazon Prime
Trailer: Vaastav
IMDb Rating: 8
Also read- The best classic Christmas movies of all time for you to watch on this Christmas
3. 'Waqt: The Race Against Time': Shefali Shah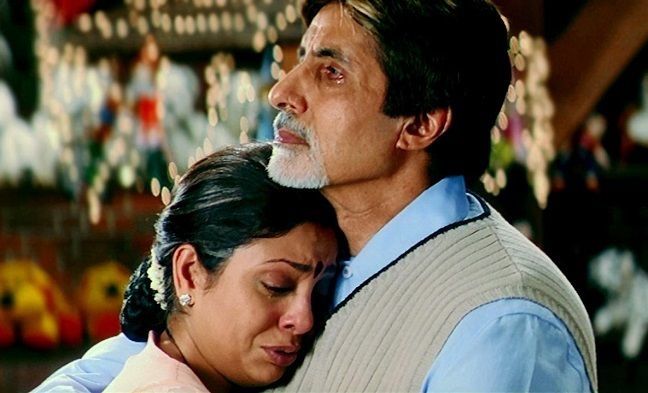 Waqt: The Race Against Time is a 2005 Bollywood film, based on a Gujarati play by Aatish Kapadia. In this movie too, the mother of 38-years-old Akshay Kumar is played by Shefali Shah who was just 33-years-old. Isn't that too much of an odd age difference?
Story
Ishwar Thakur and his wife, Sumitra Thakur run a toy factory together. They have a grown-up son, Aditya who is least interested in taking up responsibilities. The situation becomes even worse when Aditya elopes with his girlfriend Pooja.
Pooja becomes pregnant. Aditya's parents decide to force Aditya to take responsibility for himself and his family because he is soon going to become a father. Ishwar and Sumitra drive their son along with Pooja out of their house and into a room behind the house in the garden. Aditya grows to hate his father. During this time, Aditya understands his role in life.
Aditya, who has now become a responsible person, discovers his father is suffering from lung cancer when the latter attends Aditya's performance on stage. Aditya urges the audience to pray for his father so he could live to see his child's birth. Ishwar survives and names the boy baby after himself. After Aditya's father dies, Aditya welcomes children at his father's toy factory and in the presence of his family, plays with a lonely, disabled boy.
Director: Vipul Amrutlal Shah
Main Cast:  Amitabh Bachchan, Akshay Kumar, Priyanka Chopra, Shefali Shah
Genre: Comedy-drama
Where to Watch: Waqt: Amazon Prime
Trailer:  The Race Against Time
IMDb Rating: 6.8
4. 'Zero': Sheeba Chaddha
Zero is a 2018 Indian Hindi-language romantic comedy-drama film. Here too we see the 53-years-old actor, Shah Rukh Khan, plays the son of Sheeba Chaddha who was just 46 then. Mother being 7 years younger to the son in real life, now that's something huge!
Story
Bauua Singh who is a dwarf from Meerut is having trouble finding a girl for his marriage. He uses matrimonial agencies and eventually finds his companion in Aafia Yusufzai Bhinder, who is an NSAR scientist with cerebral palsy. They both fall in love with each other, but in five months Bauua dumps her.
Bauua's parents fix their marriage after Aafia comes looking for him. Bauua had applied for a dance competition earlier and on his wedding day, he is informed by his best friend that he had been shortlisted, for the same and if he won, he would get a chance to meet Babita Kumari who is a Famous Bollywood celebrity. Excited, Bauua flees from the marriage after a confrontation with Aafia.
Bauua wins and meets Babita at a party, after he displays an ability of mind-reading, Babita offers him a job. Bauua tells Babita about Aafia, who narrates a false story of her parents just to make Bauua realize his mistake. After listening to Babita, Bauua wishes to reconcile with Aafia.
Bauua and Guddu travel to New York, to meet Aafia but she refuses to see him. After being rejected, Bauua enlists in a program recruiting human volunteers to be sent to Mars. Bauua gets selected. On the day of his launch, Aafia is supposed to marry Srinivasan but leaves him, and she reaches NSAR seconds before Bauua's launch.
Bauua assures her that he always loved her, just before the rocket takes off. Bauua reaches Mars and sends a video recording of himself. But his rocket gets lost in space while returning. Fifteen years later, a Chinese space station catches the signal of Bauua's escape pod, which crash lands in the Indian Ocean, revealing Bauua is still breathing.
Director: Anand L. Rai
Main Cast: Shah Rukh Khan, Anushka Sharma, Katrina Kaif
Genre: Comedy-drama
Where to Watch: Amazon Prime
Trailer: Zero
IMDb Rating: 5.8
5. 'Agneepath': Rohini Hattangadi
Agneepath is a 1990 Indian Hindi-language action-drama film. The film was inspired by the life of Mumbai gangster Manya Surve. Rohini played the role of Amitabh Bachchan's aging mother. While she was 35 when the movie came out, Amitabh was 48
Story
Village schoolmaster Dinanath Chavan opposes the plans of Kancha Cheena, to set up a base for heroin smuggling.  Dinanath was discredited in a set-up scandal and lynched by the manipulated villagers to death by Cheena's men. Vijay Dinanath Chavan, son of Dinanath Chavan swore revenge over his father's murder and the attempted rape of his mother, he too became a gangster in his own right.
Vijay suffers an assassination attempt by fellow gangsters after he refuses to co-operate with their drug-smuggling operations. A Tamilian coconut vendor Krishnan Iyer discovers him and transports him to the hospital and saves his life, becoming his friend and eventually finding employment as Siksha's bodyguard. While in hospital, he is taken care of by nurse Mary Matthew.
Vijay takes his revenge by killing the assassins, but his mother strongly disapproves of his actions and drives him away. Vijay who is hurt seeks solace in Mary's arms and they fall in love. Siksha is kidnapped by a gangster, and an unsuccessful rescue attempt by Krishnan ends up with the two of them brawling. Vijay arrives to kill the gangster.
He discovers that Siksha and Krishnan are falling in love. Vijay strongly protests against the relationship with his mother, his mother disowns him again and considers Krishnan her "good son". Soon after Vijay marries Mary.
After having a deal with Kancha Cheena to allow him access into his old village, Vijay is successful in getting Cheena behind the bars. But Cheena ensures his release by arranging for the witnesses to be killed and Vijay's family to be kidnapped and held hostage. This made Vijay return to his old cruel ways of getting things done. Cheena bombs the entire village before he is killed by Vijay. Vijay dies of a bullet wound in the lap of his mother at the site of his old house.
Director: Mukul. S Anand
Main Cast: Amitabh Bachhan, Mithun Chakravarty, Madhavi, Neelam Kothari, Rohini Hattangadi
Genre: Action-drama
Where to Watch: Amazon Prime
Trailer: Agneepath
IMDb Rating: 7.7
Also Read- Taish Review: Far From Perfect But Thrills And Engages In Equal Measure
6. Sonali Kulkarni in 'Bharat':
Bharat is a 2019 Bollywood film where the 44-year-old Sonali Kulkarni played the mother to 53-year-old Salman Khan.
Story
Set in Delhi during 2010, the film begins when Bharat, a shopkeeper tells his past life on his 70th birthday to his grandniece and the film goes into flashback. Partition, 1947, Bharat's parents and siblings board a train to India for safety from the riots in Pakistan. Bharat's father Gautam stays behind to search for his lost daughter Gudiya.
As a child, Bharat looks to supports his family. He befriends a young boy, Vilayti, and they meet a roadside circus worker Radha as they fall in love and join The Great Russian Circus.
17 years later, Bharat has become famous and during a celebration, his brother Chote is hurt in an accident. 11 years later, Bharat joins Indian migrants prompted by oil discovery in Saudi Arabia for his sister, Mehek's marriage. There he falls in love with his chief engineer Kumud Raina. But Back in India, they begin a live-in relationship.
9 years later, Jamuna dies; Bharat gets the job of a stationmaster. Keemat, in need of money, insists Bharat buy the store from him. Bharat buys it, hoping that Gautam will come back. Bharat leaves India again along with Vilayati as a sailor for 8 months and earns a good amount of money to buy the store.
8 years later, Bharat converses with Meher, who is a London resident adopted by a British family during partition, and realizes she is Gudiya. Present-day, Bharat decides to sell the store. Bharat realizes that Gautam is probably too old to still survive. Bharat marries Kumud, finally moving on.
Director: Ali Abbas Zafar
Main Cast: Salman Khan, Katrina Kaif, Disha Patani
Genre: Drama
Where to Watch: Amazon prime
Trailer: Bharat
IMDb Rating: 5.2
7. Supriya Karnik in 'Yaadein':
Yaadein is a 2001 film, where Supriya Karnik was just a 26-year-old girl playing the role of mother to the 27-year-old Hrithik Roshan.
Story
Raj Singh Puri is best friends with Lalit Malhotra. Raj's wife, Shalini, died in an accident some years prior, leaving Raj to raise their three daughters alone. Ronit, Lalit's son has maintained close friendships with Raj and his daughters, having grown up with them.
Isha, Raj's youngest daughter, and Ronit attend a sports event in Malaysia, where they fall in love. Unaware that Ronit's parents are arranging for his and Monishka Rai's marriage, the spoiled daughter of a business tycoon. Raj is shocked when Isha asks for his blessing to marry Ronit.
Raj, overcome with emotions ends up in an accident. Raj explains everything to Isha. She then ends her relationship with Ronit and pretends that she loves Ronit only as a friend. Bitter hearted, he agrees to the engagement. Ronit soon finds out that Monishka's lifestyle is different from Malhotras'.
Now Raj begs the Malhotras to reconsider the engagement. This ends up in J.K. Malhotra insulting Raj, and accusing him of using Isha to get inside their wealthy family. Raj ends his friendship with the Malhotras.
On the eve of the engagement party, Ronit roars out at his parents for neglecting his feelings throughout his life. He and Isha then reconcile and appear to elope, sending the Malhotras into a panic. Ronit gives a speech that exposes the families' selfish sacrifice of their children's happiness for money, which shocks the guests and prompts the Rai family to cancel the business merger.
J.K. begs both Raj and Isha for forgiveness, and the Malhotras give their blessing to Ronit and Isha.
Director: Subhash Ghai
Main Cast: Hrithik Roshan, Kareena Kapoor, Jackie Shroff, Amrish Puri, Kiran Rathod
Genre: Romance-drama
Where to Watch: Netflix
Trailer: Yaadein
IMDb Rating: 4.4
8. Anushka Shetty in 'Baahubali 2: The Conclusion':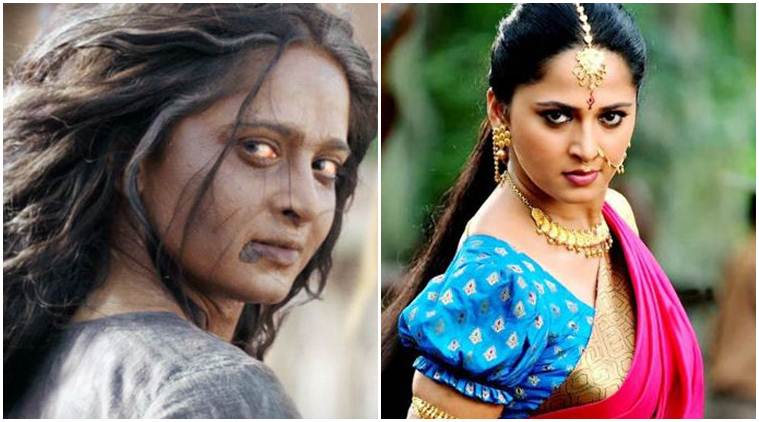 Baahubali 2: The Conclusion is a 2017 Indian epic action movie in which Anushka, 36 played the role of mother to Prabhat who was 38 then.
Story
Kattappa continues to narrate how he ended up killing Amarendra Baahubali.
After vanquishing the Kalakeyas, Amarendra Baahubali is declared as the future king of Mahishmati. Bhallaladeva asks Sivagami for Devasena's hand in marriage. The Rajmata, unaware of Amarendra's feelings for Devasena, assures Bhallaladeva and sends a marriage proposal. Insulted Devasena rejects the proposal. Sivagami sends an order to Amarendra that Devasena is brought to Mahishmati as a captive.
Meanwhile, Kuntala has attacked a dacoit-like army. Amarendra saves Kuntala.  Amarendra then reveals his true identity. He receives Rajmata's orders. After reaching Mahishmati, the misunderstanding is sorted and Amarendra had to choose between the throne or Devasena, he chooses the latter.
During Devasena's baby shower, Bhallaladeva rids Amarendra of his duties as a "gift" and offers them to Sethupathi. Devasena speaks out against Sivagami's inaction and taunts Bhallaladeva. Amarendra and Devasena are banished from the royal palace. Bhallaladeva plots up against Amarendra.
Convincing Shivgami that Bhallaladeva's life is under threat, and she orders Kattappa to kill Amarendra. Kattappa, lures Amarendra, and then stabs him in the back and kills him.
Kattappa soon learns of Bhallaladeva's plot and informs Sivagami, who reveals to the public outside her palace that Amarendra is dead and his baby Mahendra Baahubali is the king. As Bhallaladeva is about to kill Rajmata, she flees with the baby but falls into a river.
Bhallaladeva Devasena prisoner for the next 25 years. After listening to the whole story, Mahendra Baahubali declares war. Bhallaladeva recapture's Devasena, but Kattappa, Mahendra, and the army save her. Mahendra fights. After completing a cleansing ritual Devasena burns Bhalla. Mahendra has crowned the new king of Mahishmati with Avantika as his queen.
Director: S.S Rajamauli
Main Cast: Prabhas, Rana Daggubati, Anushka Shetty, Tamannaah, Ramya Krishna, Sathyaraj
Genre: Epic action
Where to Watch: Amazon Prime
Trailer: Baahubali 2: The Conclusion
IMDb Rating: 8.2