The story of Ayyappanumkoshiyum revolves around a retired havildar named Koshy and Ayyappan Nair, who is the SI of attappadi police station. Koshy gets into trouble with Ayyappan Nair, and before going to jail, Koshy warns Ayyappan Nair. Will there be a battle between the two when Koshy gets out of jail? Check out the whole Ayyappanum Koshiyum Movie Review.
Director: Sachy
Main cast: Prithviraj Sukumaran, Biju Menon, Anil Nedumangad
IMDb rating: 7.9
Genre: Thriller. Drama
Where to watch: Amazon Prime
Ayyappanum Koshiyum Movie Review
Koshy, who is a retired havildar, was traveling to Ooty from Kattappanaand was carrying liquor bottles. Along the way, he had to pass through Attappadi, which was a non-liquor zone, and that is where the trouble began when he got arrested by Ayyappan Nair's subordinates.
Koshy is the son of Kurian John, who has a strong and powerful political background. However, the arrest hurt Koshy's ego, and he was jailed for two-weeks without bail. Koshy had promised his wife and daughters that he would celebrate Christmas with them. But, evidently, there was a turn of events when he got arrested along the way. After two weeks when Koshy gets bail from jail, he starts planning his revenge against Ayyappan Nair.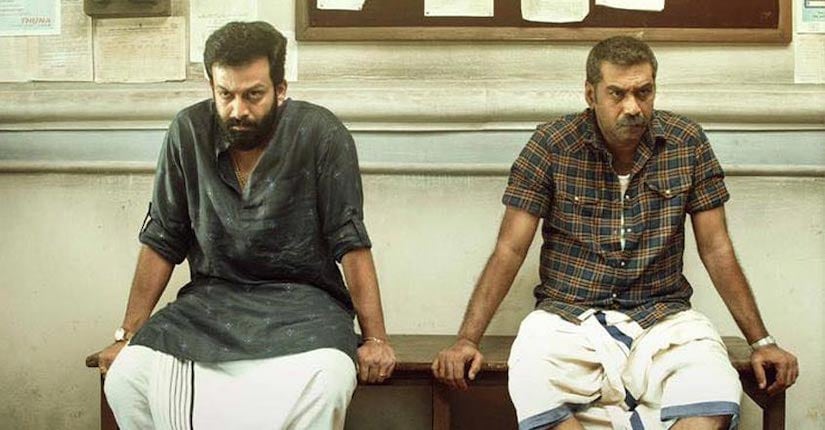 This is a three-hour-long movie in which the director Sachy has impressed the audience with an extremely good direction and script. Moreover, the movie depicts how an honest policeman fights for what is right and places humanity over anything. The movie shows how Ayyappan Nair, the SI of Attappadi police station struggles to transform Koshy who is prideful and a spoiled brat of a rich father.
There are other movies like Vikramvedha and driving license which follows the same synopsis; however, this Ayyappanum Koshiyum movie review suggests that the movie smartly portrays contemporary, socio-political situations as the movie not only portrays a war between Koshy and Ayyappan, but also shows how society differentiates on the basis of class, color, and society.
In the movie, we can see how the female characters get the chance to put forward their perspectives and views about different aspects of the movie. However, we also come across a scene where Koshy slaps his wife, which shows toxic masculinity. But we also see that the female characters were bold enough to voice their opinions.
Interesting Read: 9 Movies & Shows by The Scam 1992 Director, Hansal Mehta That You Shouldn't Miss
The director and the screenwriters have added beautiful songs between the shots to keep the viewers entertained throughout the movie. The casting of the movie is impressive with strong characters. The main characters that are Ayyappan Nair and Koshy are played by Biju Menon and Prithviraj Sukumaran, who perfectly portrays the characters' personality needed for the part.
Some other remarkable characters of the movie were Anu Mohan, Ranjith, Anil Nedumangad, Johny Antony, and SabumonAbdusamad. Everyone has portrayed their characters beautifully, which makes this movie even better. AyyappanumKoshiyum is a thriller movie that has the right amount of drama for everyone, where an ego clash between Ayyappan Nair and Koshy turns into a big war, and this is how the movie progresses where their rivalry is further fuelled by Ayyappan's wife and Koshy's father.
Ayyappanum Koshiyum Movie review is all about the bits from the movie and how the two strong characters of the movie want to satisfy their egos. The film is not very predictable, so the viewers cannot really predict what is going to happen next in the movie. This is another great thriller movie that you can add to your list of favorites to watch with your friends and family this weekend.