THE WAR WITH GRANDPA STORY
This story is based on a novel with the same name, 'The War with Grandpa'. It is about a little kid, who is upset that he is forced to move out of his room when his grandfather moves in with them. He declares war on the grandpa to push him out of the house, but the septuagenarian fights back. The story is about who will win this war?
THE WAR WITH GRANDPA REVIEW
IMDB Rating – 5.5/10
Rotten Tomatoes – 29%
The Deckers family is a regular happy American family with a house full of kids. Three to be precise; two daughters and one son. But Sally (Uma Thurman) is also a doting daughter who cannot believe that her father Ed (Robert De Niro) lives alone, wallowing in his loneliness, after her mother's death. Sally one day lands up at his house and somehow drags him along to live with them even after Ed's resistance. The only concern is that Sally's young son Peter (Oakes Fegley) has to move out of his room and live in the attic so that the grandpa can be accommodated.
After some persuasion from her mother on how one needs to sacrifice for the family, Peter gives up and reluctantly moves out of the room. Soon, his friends at school force him to get back what is rightfully his.  Peter declares a war on his grandpa who does not cave in and decides to play along and give it back to his grandson.
Interesting Read: 22 Most Iconic Horror Movie Villains of all Time
Director Tim Hill kept it light and fluffy all throughout, never crossing the line. He made this futile war seem nothing more than a little kid's stubbornness. The film is not an overtly emotional tear-jerker. Along with a few homilies about how only fools and generals go to war, the film's writing is rooted in its silly gags. And while there is some fun to be had there, that's also where the problem lies. A lot of it is just flat out silly and not truly funny to evoke many organic laughs.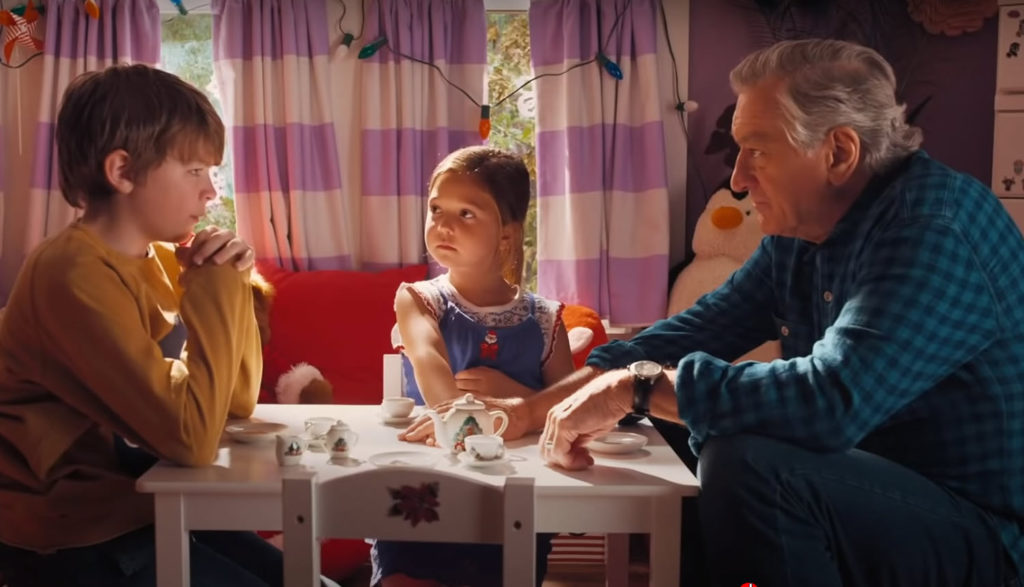 Barring a few odd LOL moments, there are mostly slapstick scenes where oldies are jumping, falling, flying around, or worst still, inadvertently dropping their pants in front of their grown-up children. And a lot of it is quite predictable too.
There's also no dearth of stereotypes. A school bully, who routinely acts like a jerk, but goes unchecked, until a bunch of old men teaches him a lesson…by erring literally, throwing him into the garbage bin.
Uma Thurman, being such a seasoned actress, comes across as surprisingly hammy with all sorts of loud expressions to portray Sally's slightly skittish character. And it gets really over-the-top when she gets into the 'Kill Bill' mode and attacks her teenage daughter Mia's (Laura Marano) young friend, thinking that he's fooling around with her. Poppy Gagnon as the little Jennifer is the cutest little surprise package, whose sunshine innocence makes even the banalest scenes sparkle. Rob Riggle is all but wasted.