If you are looking at social media photos about people visiting the Maldives, you are not alone. The Maldives, known as the land of Islands, is one of the preferable places for a vacation you can plan for. Here are ten best places to stay in the Maldives to make your trip worth remembering
Here are the ten best places to stay in the Maldives
1. Lux South Ari Atoll
Best for: Staying late at night
The remodelled island features 193 villas, both on the beach and jetties (one of which is for adults only), white ceilings, Gray wood-effect ceramic floors, and tree-trunk furniture. The over-water villas there are very new, the spa is huge, and the interiors are fabulous.
Between the two bars facing the three-kilometre-long island is the mellow Beach-where you can bicycle along; one of them located by the pool is chilled, the other is a livelier with reclaimed wooden table, reggae soundtrack, surfboard against the wall, and inflatable swans, waiting to drift along with the sea—roasted Coffee on the site.
At the reception, you can find 32 homemade flavours of ice-creams ranging from bubble gum to pistachio. There are also live DJs at Beach Rouge and one of six restaurants, namely Allegria for Italian dishes and Senses for Indian delicacies.
The spa offers yoga at palm groves or stand-up paddleboards (ideal for strengthening the core), a tennis coach for private lessons, and a marine biologist to go swimming with whale sharks for the guests in a protected area. Pop-ups at frequent intervals include a mixologist making Aperol cocktails at East Point and an open-air movie theatre on the beach – take a quick look at the racks of Panama hats that guests can borrow.
Missing your home is impossible; also there is a red telephone box with a reception for old school style phone calls.
2. Soneva Jani
Best for: Families
The second on our list of best places to stay in the Maldives is Soneva Jani The Soneva team, the pioneer who first brought overwater villas to the Maldives, has a robust environmental policy and determination to break away from the harsh outside world, comes up its third property.
What sets Soneva Jani apart is that it was built by the five small islands in the Noonu Atoll—going through 1.8km jetty with 24 Villas Overwater, each larger than a few hotels (the largest accommodating a family of 10). And by the end of this year, there will be equal number beach villas located in the forests of screw pine, sea trumpets and banyan trees.
A Second Island is home to the Cute-As-Pie Tented Restaurant Hub, offering everything from roasted seafood to freshly baked pizzas. But the other three are undeveloped, so there is always somewhere to play.
The scale of the villas is exceptional: they are made of wood from sustainable growth of plants and designed in large sweeping curves, with ceilings and rondavels with fairy-tale turrets, ladders leading to the Indian Ocean and floors exposing the marine life below. The folding ceiling above the beds exposes the night sky with the stars.
It has a bar, a wine-tasting space, a spa, a gym, a yoga studio and an exceptional children's club that takes a holistic approach, helping families to picnic together. You will also see an observation deck with telescopes and live monitors sharing views via an eyepiece.
You can cycle around the island to the open-air and floating movie theatre where visitors wear Bluetooth headphones (just so you don't disturb the turtles). This is one of the finest villas, the best service, the best green credentials, and the best view of all the openings in the Maldives.
3.The Nautilus, Maldives
Best for Boho experience
The third one on our list ofbest places to stay in the Maldives is Nautilus, a Private-Island retreat of 26 Overwater and beach houses, named after Nemo's submarine, has the most of the luxuries. Located on top of the Indigo Baa Atoll and its UNESCO Biosphere Reserve of pale sandbars and visible coral reefs, it is a place where guests can be zoned out by seaplane or yacht.
The USP here is that everything is fluid: unscripted dining means that you will get scallop carpaccio or oyster ice cream at 5 AM if you want.
Launched in 2019, the independent resort was created to provide a home experience, so there is nothing to miss about. The design here is top-notch and luxurious. Still, it also has a personality and bohemian feel to it, thanks to the use of vibrant accent colours, attractive decorative objects with curved lines.
If we talk about service, the basis of the resort is through personalized service where every staff member here is committed to the process of handling every request and detail. Rates include many benefits such as daily breakfast (again, served anywhere, anytime), sunset cocktails, unlimited tapas-style bites throughout the day and select drinks and packaging.
Also, with four laundry pieces/day per villa. While anything that guest's demands can be arranged, the Hanfaro Bay boat trip for joining the resort's biology team for a snorkel with Manta rays and an Al Fresco Movie Night at a private sandbank with snacks are some of the most standout signature experiences you can get here at the resort.
The resort has its 15-seater seaplane so that guests can book day trips to remote islands or stellar snorkelling destinations. As with the meal program, there are some restrictions on when you can do more activity – so bring snorkelling around the reef at midnight.
Watches and iPhones are swapped out for waterborne adventures that can happen impromptu for paddleboards and snorkels. During the May-December period of bird migration, the arrival of whale sharks and manta rays is only a clear sign of the passing the time.
Unusually for hotels in the area, Nautilus is freely owned by the Maldivian and is designed for the next generation of smart travellers seeking the latest go-with-flow modern boho experience.
Interesting Read- 5 effective ancient skincare remedies that you can still use today
4. Four Seasons Maldives Private Island at Voavah, Baa Atoll        
        
Best for: complete privacy
Wide-brimmed straw hats for four seasons. It raised the bar through five acres, seven bedrooms and a deep private island. (When the group is in it, take another look at its design team at the bar, and it's more beautiful to look at, beautiful to the touch and practical to use. It's what four-season does.)
How much or how much you earn at Voavah is yours and only your concern. There is no shortage of opportunities. This is all yours.  Baa Atol Laping on your shore and got your own yacht to explore it. You have your own dive centre and all the beach toys known to man.
Not to mention your own spa, impeccable ocean of consciousness (definitely not looking 'un') and 28 staff dedicated to making your life as acceptable as possible. Going back to a shady place with a book may not be the best conditions to give everyone a vacation.
The service is friendly and gentle. The manta -on-call service is delightful – when the research team finds the gentle giants at sea, they will let you know and give you 30 minutes to get your kit and go to the speed boat. We were lucky enough to snorkel with a dozen manta rays and an eight-meter-long whale shark.
Another speciality service is the Ayurvedic Consultation, where the resident doctor analyses your doshas (mind-body) type and gives you dietary and lifestyle recommendations accordingly.
This followed with anti-gravity (upside down) yoga or treatment at an excellent spa – either overwater or hidden in the woods. Don't miss the interactive and educational speech at the Marine Discovery Center, which will bring injured turtles back to health or take a dip in one of the four pools, including the Maldivian only Olympic-sized pool.
Talking about the rooms, these are Ultra-private Maldives style beaches, water villas with steep ceilings, coral walls, comfortable beds, comfortable living spaces with island-style turquoise and sand colours, spacious bathrooms with dual vanities, indoor and outdoor shower.
Large outdoor spaces include private infinity pools, spiral staircase accessible mezzanine level lofts and direct access to the beach or turquoise pond. This indeed made in our list of best places to stay in the Maldives.
This place is a charming—excellent balance of soft and rough textures and abstraction of traditional and contemporary materials. Voavah is a place where woven seagrass meets diamond-polished concrete and fell in love with.
The muted palette of interiors may seem unnecessarily repressed at first – until you realize that what looks like traditionalism is a form of devotion.
5. Joali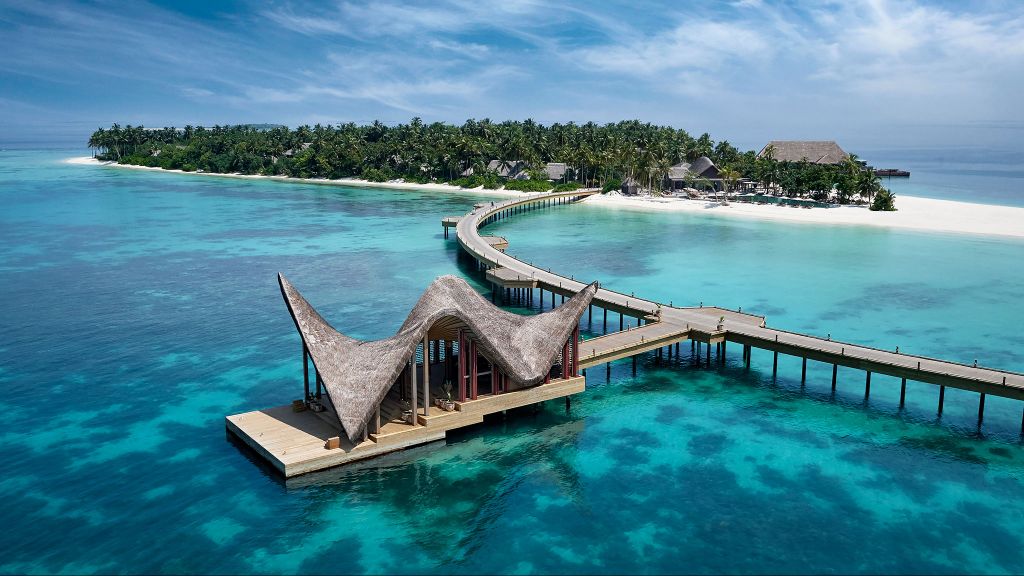 Best for: Going back to the basics
Renowned Istanbul-based design studio Autoban (behind London's Duck + Rice, Baku's extraordinary airport, several hotels in their own hometown like the house hotels and the Witt suites) was hired to bring something new and different to Joali.
Beautifully crafted design details of overwater and beach villas. Locally hand-carved wood panels and bamboo slate headboards are balanced with pink-gold bathroom faucets equivalent to large stones. In the dressing rooms, you will find sandals like Ardmore printed heron and palm-leaf kimonos and chubby clouds.
Talking about food and drinks, the executive chef Ashley Goddard and team help create a delicious and exciting food – on an island a mile away from the freshest fresh items except for fish, and some greens is remarkable. The rich and international breakfast is enhanced by rich green juices, homemade muesli, cooked Maldivian and European options.
Still, these are excellent dining options that showcase the artistic potential of the kitchen. Home-smoked Maldivian yellowfin tuna, lemon and thyme veal parcels, excellent prosecco and divers scallop risotto, is one of the many memorable Italian options served at Bellini.
Japanese restaurant Saoke is a Tour de Force, designed for Japanese-mmets-Peruvian cuisine by Norioshi Muramatsu, one of the world's leading restaurant architects. Destination dining is also available with your favourite menu is served at the beach.
Jovali is one of the best hybrids offered by the Maldives. Turn barefoot at the Mura Bar for the sunset martini, or get ready for dinner at the Japanese restaurant Saoke. This deep-rooted, solid visual aura immediately meets those at the forefront of the Jovali, giving guests no clue as to who, what they should wear and how they should relax.
In the case of the Maldivophiles, the favourite winter-sun detour is here here, which is high achieving as favourite old-timers and big-name brands. This is by far one of the best places to stay in the Maldives, without a doubt. If you are willing to spend more on accommodation, Jovali is the choice you should prefer.
6. Miladhoo Island Maldives       
Best for: Disconnect and relax
A wonderful reminder of the joys of going back to the basics, Miladhoo Island, gives a contemporary turn to the classic Maldivian island style. The 50 villas have ingenious decorative leaves – the bright blue-blue accents and curved stripes of the beach pool villas, in particular, showcases elegance and panache.
The island is small enough to get around without a buggy, so you can enjoy the leisure of walking barefoot. Miladhoo location on Ba Atoll, a UNESCO Biosphere Reserve with the highest concentration of manta rays in the world, is a big plus. Hanifaru Bay is what La Scala means for opera buffs to attract fans. Snorkelling, diving or cruising, especially in the company of a resident marine biologist, can be beautiful and worth doing – this experience can change a person's overall attitude towards the oceans.
Signature Restaurant Ba'theli is a show-stopper that serves Maldivian and trade-route-inspired cuisines in three boats beautifully connected dhonis. The Deep Sleep Mood menu is no less. Four courses designed for the maximum soporific effect are served on your candlelit terrace.
Ideally, this should be preceded by a spa treatment followed by a meditation session and a herbal bath. At this stage bedtime and a glass of warm milk (which may be unnecessary) can also be arranged. If you are one of those, who are not into posting social media photos now and then, and are OK with not being near your mobile phone for a couple of hours, this resort is a go-to place if you are looking for best places to stay in the Maldives.
Interesting Read- 10 Countries Which Do Not Have A Minimum Legal Drinking Age
7. Coconut Maldives  
Best for: Urban fashion in an island setting
Wanna experience atmosphere? (Or at least the interiors like that?) You can find them at cocoon where 150 rooms poem to pared-down, pastel-tone, Italian chic -could make you feel that for a brief period. The fun begins with the swings that dangle from the reception, continuing with the furniture placed on the transparent legs, so that everything feels like it is moving in the air.
There is also a sensory component to a faintly nursery aesthetic. The picture frames in the rooms may contain artefacts of an ex-occupant – a good idea, where your success depends on whether Michelangelo or a madman precedes you.
If you are interested in island coconut palms, sign up for the coconut-palm tutorial. Alternatively, you can have a tour of a traditional Maldivian village, to learn more about traditional Maldivian village life.
8. Hurawalhi Island Resort            
Best for: Marine lovers
It is home to the largest underwater restaurant in the Maldives – the glass has wonders on both sides. There are less than 50 dive sites around Hurawalhi, one of the most trusted manta-ray hotspots in the archipelago, where you will be amazed to see these creatures lining up to be fuzzed by lesser marine life.
The 90 compact and simple Villas differing only in their location and the presence or absence of a private pool. Ventilated areas for two main restaurants and bars with high ceilings. The views and menu at Underwater Restaurant 5.8 are impressive.
Another temptation is the small and beautiful stocked wine cellar, by Lars Petre, a leading hotelier and founder managing partner in the Maldives. But here, it's below the surface that counts.
A 40-minute seaplane ride from Male International Airport will take guests to the beautiful Huravali Island Resort, home to the beautiful Coral Island. It has a serene atmosphere for those who want to escape from the regulars, beautiful architecture scenery that skillfully combines with the lush grounds.
The resort is the perfect embodiment of the idea that the Maldives offers to most travellers: turquoise water-sand beaches with palm trees, overwater timber structures and high and a romantic story.
9. The St Regis Maldives Vommuli Resort
Best for: Foodie
The Jetsons inspired the retro-futurist design in Vommuli. It looks like a spacious docking station for flying saucers – made entirely of wood. The house Reef is excellent, but things will attract your attention that will keep you engaged for weeks on dry land.
Of the half-dozen super restaurants, the most charming one is Cargo, a street-food emporium in a ship's container – as if washed ashore and seized by a castaway hawker of Michelin-starred variety. The largest of the 77 villas – the largest in the Maldives – is the John Jacob Astor Estate, named after the same man, who built the original St. Regis Hotel in New York.
Here are all the signatures that St. Regis touches – the butlers, the grand steps, the bar mural, the ceremony of champagne sabrage.
10. Ozone by Atmosphere at Maadhoo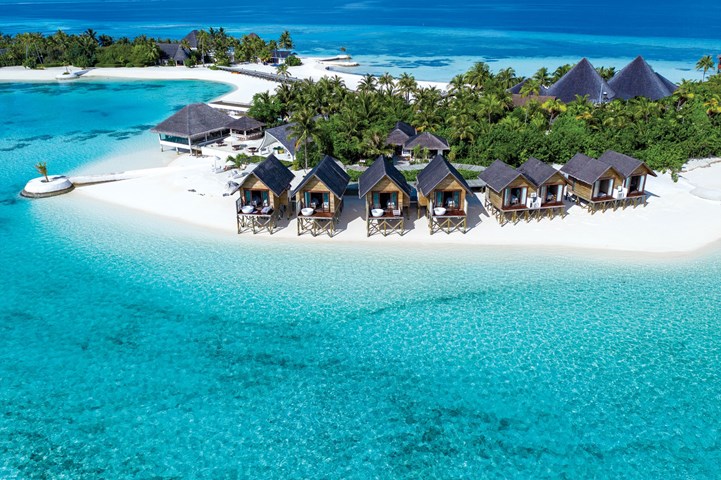 Best for: Sport freaks
Last on our list of best places to stay in the Maldives is Ozone by Atmosphere. All the adrenaline-filled activities are nicknamed The Hub at one end of the island, where there is a water sports centre which includes flyboarding, wakeboarding – a pool with a covered bar and six restaurants (where five of them belongs to hotel).
It's also a place to relax in the magnificent spa with its local salt – the freshwater diving pools, and the stepping-stones above the pools adorned with half-submerged oriental vessels and lily pads. 41 Beach Villas are suitable for families, 48 ​​Overwater Villas offer more privacy;
The ones with plunge pools face the sunset, and every one comes with a shared butler so they can lure guests around the island in a buggy. For lunch, go to one of the wire-wood bar tables at the health-food restaurant for sushi and sashimi, or at any other places to eat (no need to worry about the number of hotels).
At Peking, there is Hong Kong-style, stir-fried lagoon crab; or go to Indo-Ceylon where you can eat Delicious hoppers with coconut chutney, and six-course seafood menus (scallops with pumpkin and heirloom tomatoes; grilled yellow tuna and what not!
We hope you got to know a lot from our list of the best places to stay in the Maldives. Happy exploring!