Description: Disney+'s 'Cloud's is the latest released movie about a teenager named Zach Sobiech who was diagnosed with bone cancer at the age of 14. And at his last moments of life, he relied on his talent for music.
Director: Justin Baldoni
Main cast: Fin Argus, Sabrina Carpenter, Madison Iseman
RT rate: 76%
IMDb rate: 7.5
Genre: Musical Drama
Where to watch: Disney + Hotstar
The true story behind Disney +'s  Clouds's is that it is based on the real-life event of Zach Sobiech. A teenager who lived with his parents in Lakeland, Minnesota was diagnosed with osteosarcoma an aggressive type of bone cancer. This movie was able to portray Zach Sobiech's final moments he spends on creating music.
Cloud's was the song that Zach wrote about his final moments of life. In his last moments, he wrote plenty of songs for his friends and family before he died and one of them was Clouds which became a hit on YouTube and still standing.
Zachary Sobiech was never alone throughout his journey. Zach always had his childhood friend Sammy Brown and his then-girlfriend Amy. These two were the strongest pillar in Zach's entire life. Zach's family was also his biggest support. It did create chaos between his mother and father when dealing with his treatment and the fact that he got only one year to live but they managed to pull through because Zach was worth it.
The True story behind Disney's 'Cloud's is based on the book written by Laura Sobiech
Laura Sobiech is the author behind the book Fly a little higher: How God answered a mom's small prayer in a bigger way who also happens to be the mom of Zach Sobiech. Cloud's is a memoir written by Laura Sobiech. Laura Sobiech decided to write this memoir when she found
out that his son has only one year to live. It is difficult to even imagine how a mother felt after knowing that his child has got only one year to live. But Laura was a strong mom with a strong faith in God.
Her memoir has not only Zach's story but how she believed that this is not the end. She prayed to God that he can have his son but this has to be for a better good. Cloud's movie attracted many audiences. This tear-jerking film was the most talked about movie in the media. Justin Baldoni the star from Jane the Virgin was inspired by Zach's story after watching his viral song on YouTube.
This was not Justin's first teen drama he also directed Five-feet apart which left the audience sobbing throughout the movie. Justin Baldoni reached out to Zach's family and friends to relive Zach's story so that he could bring this amazing story to the big screen. The True story behind Disney+'s 'Cloud's was the message that even in your final moments you can make it all count.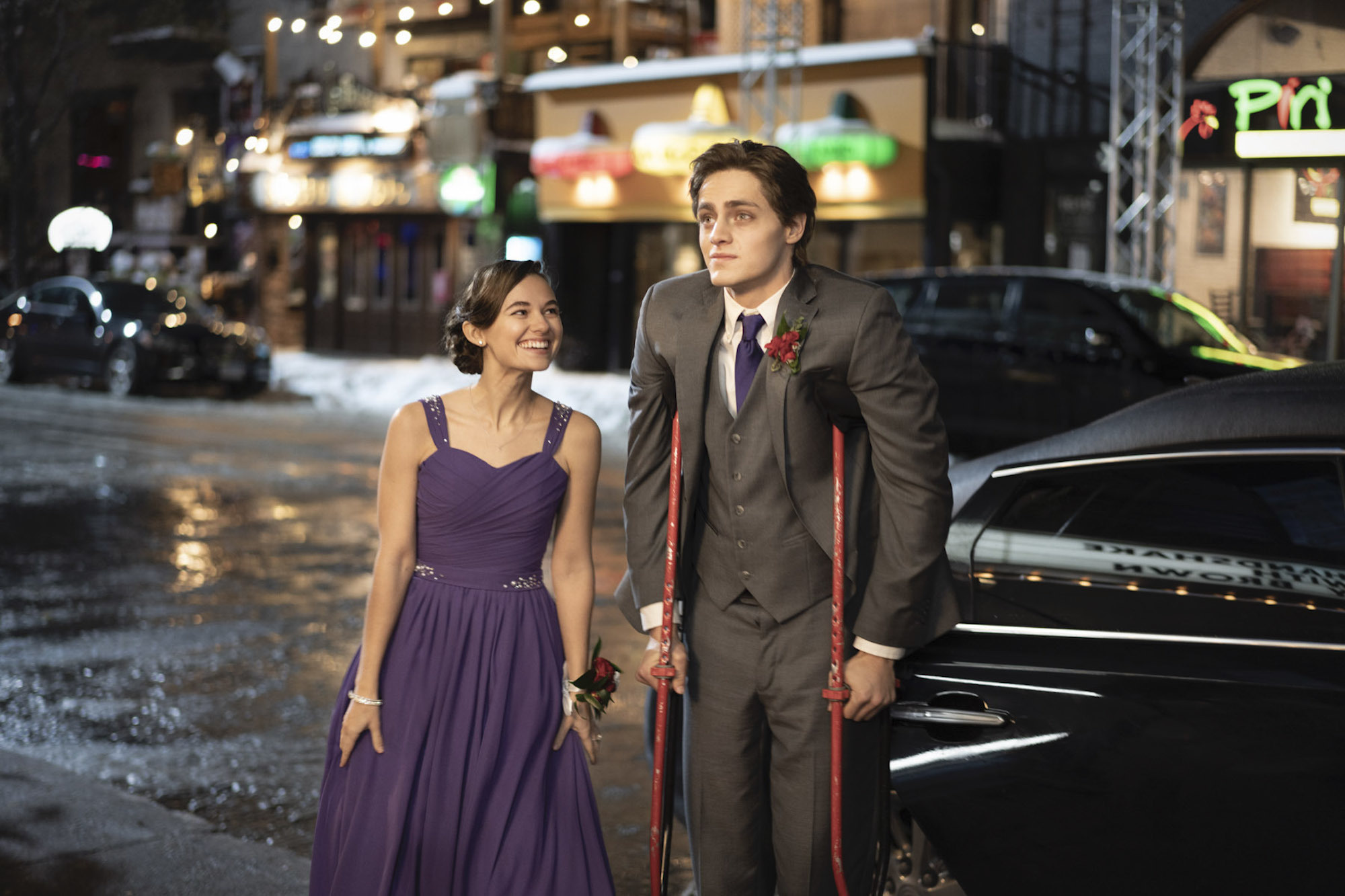 Also read- 15 Best TV Shows Of 2020 Which Added A Little Cheer To Lockdown
A tribute to Mary Oliver's (late American poet) 'The Summer Day'
Is it even possible a magical teen drama without a poem? No. Disney+'s Clouds was able to pay their tributes to the late American poet Mary Oliver through her beautifully written poem "The Summer Day". " Tell me, what is it you plan to do with your one wild and precious life of yours. " This line from the poem was repeated several times in this heartbreaking movie.
What is it you plan to do with your one wild and precious life? Guess what? Zach had a plan. After Zach's doctor broke the news about his cancer cannot be treatable and he got only one year to live, Zach was not disappointed at the thought of him missing out on a lot of things but instead, he made this one final year count.
Zach and his friends Sammy Brown and Reed Redmond formed a band known as Firm Handshake. This band released their first track called Fix me up which was a song that Sammy and Zach wrote for each other as their goodbyes.
'Cloud's became a sensational hit on YouTube.
Zach and his band released several tracks on YouTube and one of them was Cloud's which later became a huge hit crossing millions of views. Weeks before Zach's death his song 'Cloud's reached 3 million views and people were gushing over his song and his life story.
Soon after his death, the viral song raised to more million views. Cloud's currently has 14 million views on YouTube and increasing. This became one of the True story behind Disney's Cloud's.
This beautiful song was that attracted Justin Baldoni to bring Zach's spirit alive in everybody's hearts. The director/ producer released a 20- minute documentary on Rainn Wilson's ( actor from the hit show The Office) YouTube channel weeks after Zach's death.
Justin Baldoni has a neutral religious background and a memoir written by Laura Sobiech included wanting of miracles and faith in God. Justin Baldoni and screenwriter Kara didn't want to address a story that was based on miracles but they had no intention to disrespect Zach's story.
So, instead of beliefs in religion, they decided to portray faith in the human spirit. And, look how beautiful it turned out. Although, to honor the true story behind Disney+'s Clouds they did quote passages from Psalms.
Also read– Mane Number 13 Movie Review: Conventional storyline with predictable twists
Finished what Zach Sobiech started
Soon after Zach's death, his friends including Sammy Brown and his then-girlfriend Amy started an organization that collected funds for finding the cure for osteosarcoma. Zach Sobiech's osteosarcoma fund was found in the memory of Zach Sobiech. His family and friends made sure that no one else has to go through the pain of losing their child to a disease that cannot be cured.
The money made from his viral hit song 'Clouds' was donated to Zach Sobiech's fund at Children's Cancer Research Fund. Zach's family was more than grateful for having his son's story reach millions of viewers and creating hope in people who are also going through their final moments.
Laura Sobiech also shared wonderful memories of her and his son. She said that when Zach found that he has only a year to live he was all about saying 'Yes'. There was no place to say 'No' anymore. She also said that Zach wanted to make his death count. He wanted to be the last one to die of cancer even if that meant many other children could be saved.
His innocent and fighting spirit touched the audience around the world and every sale they made from his song was given to Zach Sobiech's osteosarcoma Fund. Zach Sobiech died but he sure lifted our human spirit to great heights.
It is never late to live your life and that is my friend the True story behind Disney+'s 'Cloud's'