Miss India Story: Manasa Samyuktha (Keerthy Suresh), a girl with big dreams in her eyes. She harbours ambitions in her life that people believe are beyond her reach. In the film, she sets out to prove her worth to the people who have been denying her intentions.
Miss India Movie Review
Miss India is an often told tale; the rise of an underdog that everyone underestimates. With such stories, you relate to the character and their circumstances more than other films. As the movie progresses, you will feel a high once you see them achieve what they set out to do.
It's refreshing to see that such films aim to tell an inspiring tale of a woman, who achieves her dreams with nothing but her confidence to back her up. At the same time, it's sad just how watered down and overdrawn her journey is made out to be.
Interesting Read: Love Movie Review: an Intriguing Thriller That talks about Marriage
Manasa Samyuktha's (Keerthy Suresh) father (Naresh) tells her at the age of eight that her good marks in school mean nothing unless she has a goal in life. Her mother (Nadhiya) wants her to be educated only to get her married to a man who will provide a comfortable life for her.
Samyuktha is a girl with bigger dreams than her Lambasingi roots can hold.  She wants to make her grandfather (Rajendra Prasad) proud and make his Ayurvedic chai recipes world famous. Her brother (Kamal Kamaraju) gets a job in the US which gives her the perfect opportunity to spread her wings. And the rest is really not hard to guess.
Miss India has its heart in the right place. It finally brings on-screen a woman character who's relatable. It brings forth a character whose priorities lie in building her empire and nothing else. And what's even more inspiring is how she refuses to let anything stop her; be it her family or a shrewd, sexist businessman Kailash Shiva Kumar (Jagapathi Babu).
He feels that Samyuktha's chai business (randomly christened Miss India) might affect his already successful coffee business. It is sad how the story is riddled with numerous unnecessary plot-points and just plain, bad writing.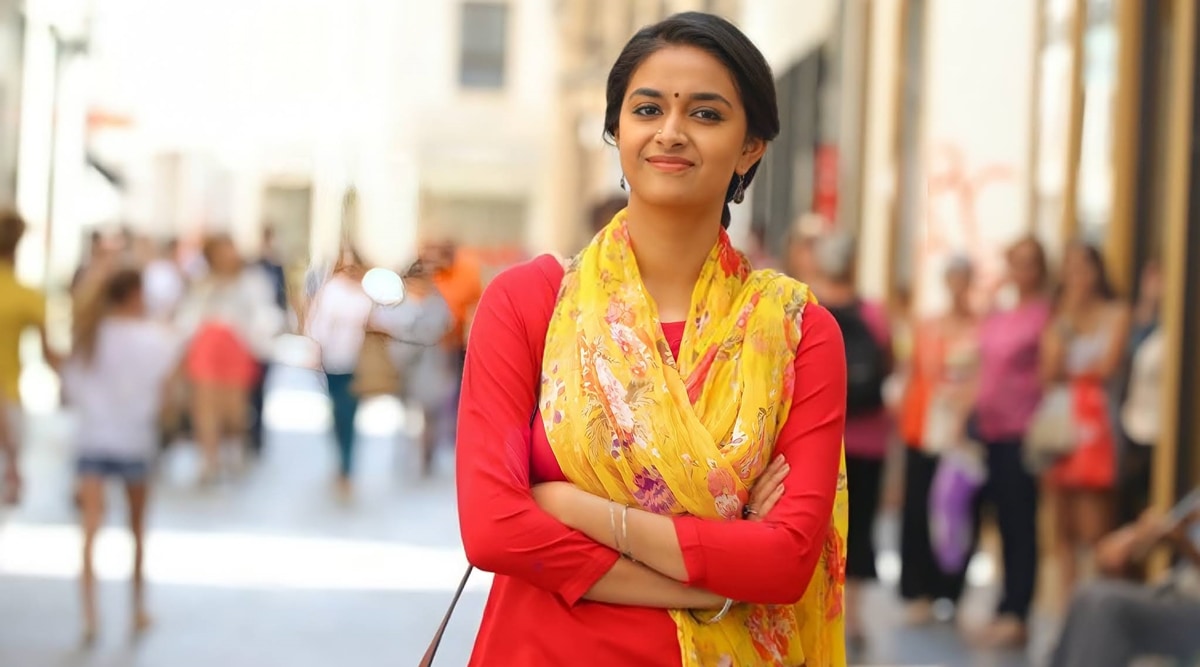 The story begins on a very melodramatic note. There is one tragedy after another, making one wonder if any of this serves a purpose to the story overall; well; it doesn't. A character elopes and gets married, another gets Alzheimer and a third dies; all of this in a span of half an hour. The dialogues are also haphazard and over explanatory.
Recalling one; how Samyuktha's mom points out that she has a tendency to look at her feet when she lies. You wonder if this will serve as a clue to the proceedings later on, again; again, it doesn't. When the scenes of Keerthy explaining SWOT analysis to her friends or extolling on the strength of women roll around, you know too much is being relied on to 'tell' and not 'show'.
Narendra Nath gets all the slow-motion entries for Keerthy right.  But unfortunately that's all he gets right. But it is Thaman's background score and music (especially Naa Chinni Lokame) that makes these scenes work, more than anything else. Keerthy Suresh manages to shoulder a film, but sadly there's only so much she and her swagger can do when she's let down by poor writing.
Jagapathi Babu plays a character that is supposed to be sleazy and menacing but comes across as unintentionally funny, especially in the scenes he tries to hit on her. Miss India is definitely not the kadak masala chai it has the potential to be. Watch this film for Keerthy.