Description: An alcoholic professor, Professor JD, takes up a three-month teaching job in the juvenile prison. This prison is ruled by the antagonist Bhavani. The story revolves around how professor JD rescues and liberates all the kids from the torturous rule of Bhavani, and this event changes him and makes him a better person.
Director: Lokesh Kanagaraj
Cast: Joseph Vijay, Vijay Sethupathi, Malavika Mohanan
IMBD Rating: 7.7
Genre: Thriller, action, crime
Release date: 13 January 2021
Runtime: 2 hours 59 minutes
Where to watch: Nearby theatres
Congratulations to the superb success!
The Master movie review boasted the outstanding success of this Tamil movie. Surely, director Lokesh or any other maker could not have anticipated this response level from the audience. This movie bagged the title of one of the biggest post-pandemic releases throughout the world. The amazing direction and acting complimented the exceptional storyline.
Most of the people who watched this movie have nothing but praises and appreciation for this. I bet you find a person who did not like the movie. This, my friend might be one of the most difficult tasks to do. Master movie review speaks for its super-duper success.
Master is an action, thriller movie that has been excellently written and directed by Lokesh Kanagraj and produced by Xavier Britto. The blockbuster star Vijay and Vijay Sethupathi played the leading roles. Talented actors like Malavika Mohanan, Arjun Das, Andrea Jeremiah, and Shantanu Bhagyaraj were seen to play their supporting roles exceptionally well.
The music artist Anirudh Ravichander contributed the music while cinematography and editing were done by Sathyan Sooryan and Philomin Raj respectively.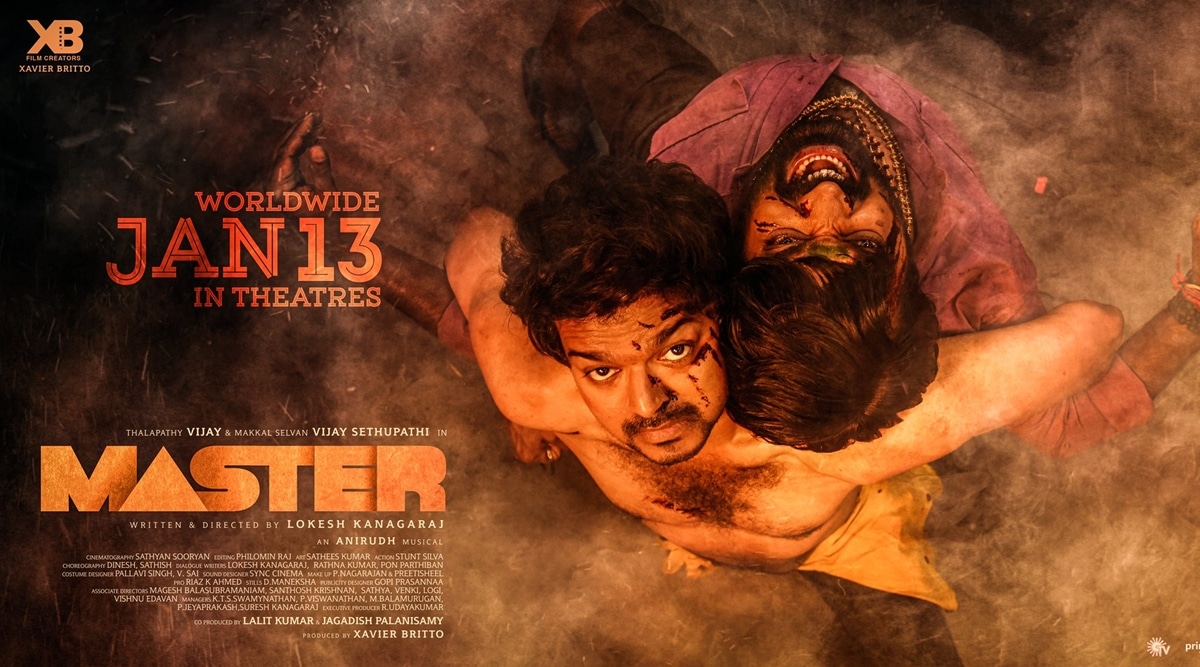 Also Read: Bangaru Bullodu movie review: Lots Of Blunders and Irrationality
Breakdown of Vijay Formula? 
This movie is also set a new benchmark for the hero Vijay. The director Lokesh finally seems to break down the Vijay Formula. The Master movie review proved that this was definitely for good. So you might ask what was this Vijay formula?
Superstar Vijay has always maintained a clean on-screen image and usually took up the roles of a devotee or a perfect man. But in this case, he came out of his comfort zone and played the role of an alcoholic! Many other film instants also show that our hero is ready to come out of his traditional roles and put himself out there.
Through this movie, he made this statement that now he is ready to come out of his comfort zone and take up new challenges!
Big Theatrical Blockbuster!
The movie was all set to release on 9 April 2020 but had to be unfortunately postponed due to the covid-19 pandemic. Sad right? These movies have been in theatres since 13 January 2021, just a day before Pongal. Thankfully, this film's makers decided to wait for a theatrical release rather than releasing this film on any online platform.
The audience definitely deserved to watch this outstanding movie on big screens! Master movie review says all about the impact it created on its audience.
Not just another cliché plot?
The movie is a perfect example of how to turn a gruesome antagonist into a protagonist. Bhavani, the antagonist, is basically a monster who had a traumatic childhood. As a result, he was a savage cliché villain who was all set to ruin the life of anyone who comes between him and his plan to avenge his family.
He was a king of criminal activity and always got his way by torturing young juveniles. He blamed them for his crimes, and they had to take a bullet for him. If not legally, then literally!
On the other hand, the master or the protagonist JD aka John Durairaj, is a lowkey alcoholic professor of Chennai. He was always a supporter of children which is magnificently depicted in some scenes of the movie. But just like any cliché action-packed movie fate brings these two opposite characters, Bhavani and JD, in an epic battle.
They both were all set to ruin each other's plans and destroy one another.
JD signs up for a three-month teaching job in the same juvenile home and witnesses the ruthlessness of Bhavani. He realizes that these young people are used as pawns by Bhavani for his own goal, and this, in turn, is converting these young minds into the exact criminals that the system fears to encounter.
So now JD faces a challenge to overthrow the reign of Bhavani and inculcate true values of love and courage in the minds of these young juveniles while himself getting over the demons from his past. This is too much work for our hero, but you have to watch this movie definitely to see our hero's epic journey.
JD lock horns with Bhavani and ends up losing some of his loved ones. An angered JD retaliates and gives up alcoholism and sets aghast for his mission to destroy Bhavani. Love blossoms between JD and an NGO worker, Charu.
A perfect duo of both the Vijay's!
"The magnanimous performance of both the Vijay's keeps us rooted to our seats." This is the most commonly said of Master movie review. Both these actors were a perfect choice for their characters.
Vijay's performance as JD is highly and thoroughly appreciated. In this movie, he perfectly flexed his perfectly toned body and mesmerized the audience with his dance movies. The boyish charm of Vijay with his intense character transformation whenever required, is exactly what our director was looking for in the character of JD. He grabs the spotlight with his charms which is amazingly complemented by some intense drama filled action sequences.
Vijay Sethupathi aka our gruesome villain Bhavani just nailed this character. He managed to steal the show as a villain! This is what Vijay Senthupathi is famous for! His casual acting was just enough to add layers of cruelty in the character of Bhavani.
The final epic face-off of our main heroes was enough to create a rousing effect amongst the audiences. This shows how mesmerizing actors they are and what kind of impact these superstars have on their audience. Their dynamic duo was exactly what was needed to bring this amazing story to life.
Read Also: Maara Movie Review: Treat of Humorous Peals of Laughter
Critics says it all!
This movie is a perfect blend of various emotions and sets up an eccentric vibe amongst its audience. The audience experience all kinds of emotions like pain, revenge, and all others. Definitely, a strong storyline, direction with an outstanding cast is required to make a movie this impactful. And master movie review shows that it had all these ends covered!
This movie has had one of the most amazing reviews of all time. The charismatic performance of Vijay's keeps the audience rooted in their seats. Although the movie was a bit lengthy, it was definitely worth the while. The critics overall appreciated the movie.
A post-pandemic global box office hit!!
The movie embarked on its name in the history of Indian cinema by becoming the first film to occupy the first position in the global box office. It had a blasting release and became the biggest post-pandemic worldwide release. It is the highest-grossing film in the international industry and topped the global box office for quite some time.
Master movie review has made its highest-grossing film in the United Arab Emirates. It collected $1.4 million in just two days surpassing its contemporary movies like Wonder woman and Tenet. In Andhra Pradesh and Telangana, its profitable venture mounted up to Rs. 9.25 crore in just the first three days.
The movie collected almost Rs. 115 crore in Tamil Nadu alone in its first thirteen days. The Hindi dubbed version Vijay, and the master collected Rs 10 crore in thirteen days alone. The movie has made a total revenue of Rs 20 crore worldwide and $11 million overseas.
An amazing storyteller tells an amazing story!
Master movie review claims that Lokesh has definitely proved himself as an amazing storyteller yet again. This movie is not a traditional Lokesh film nor a Vijay film. It has come out as something new, and this new is definitely going to boost their career. Bhavani and JD's perfect dynamic escalates the mood of the audience, and the intense, filled drama keeps them on the edge of their seats.
Some drawbacks of Lokesh's direction have been pointed out. His obligation to serve fans can come as negativity sometimes. Moreover, he also wasted some of the most amazing talents in his films as they just acted as fillers. Moreover, a lot of amazing ideas were wasted as it was not executed correctly.
Some critics also closely analyze the acting of JD aka Vijay and point out the lack of effort in his acting.
However, this movie has gained a lot of love, and Master movie review is just amazing. To know more about the story of Bhavani and JD, you should definitely go and watch this. To experience the thrill and adventure of their life stories definitely watch it. If you are an action movie lover, then this movie is just perfect for you!