Here are 5 TV Parents who Dated their On-Screen Kids In Real Life — or rumored couples or anticipated ones.
When working professionals come close, it's a new bonding or says chemistry seen on screen. Because moving closely for years and days, some actor-actress tends to grow and develop more than just character relationship. And we audience watching them for years and hours makes us believe that they are made for each other.
While major of the on-screen magic tends to leave behind the age barriers they have been carrying in the character brief. Settling on dating, while they belong to different generations enlightens the spark.
It's hard to choose your family, and even harder to choose someone you love or like. But, what if you find someone who is love and family both? Our TV industry speaks of both.
Working on set jointly, there comes a time when you choose to like someone, no matter what character you are playing in the reel life. And at times, you finally fall; hence your love story falls exactly in the same well, where you are on the incest of the borderline in reel life.
To mention a few names, we've jolt down a few TV parents who dated their on-screen kids in real life, because age is just a number.
5 TV Parents who Dated their On-Screen Kids In Real Life
1. Ram Kapoor and Eva Grover
Source: https://www.tellychakkar.com
Actor, Ram Kapoor, who has been in the industry for decades, has been in news lately for two major reasons. Number one is his transformation from a husky man, to completely being a fit man. And another is when he started dating actress, Eva Grover from the same show, where she was playing the role of her stepmother.
Though the show had gained enough popularity, with this hot news, it became the sensation of the time. While confirming them about their relationship, the duo blankly stated it as nonsense on social media and entertainment platforms. This was for sure a shocking case of TV Parents who Dated their On-Screen Kids considering Ram being married at the time.
Interesting Read : Khaali Peeli Movie Review
2. Neena Gupta and Alok Nath
Source: https://www.bollywoodshaadis.com/
The joke and insult have been bullied on the most "Sankari babuji" character of Bollywood, Alok Nath had gained enough reputation with his performances in the industry. Also, been in light of the romantic adventure.
A 1986 TV drama, "Buniyaad" showcasing actress, Neena Gupta, and actor, Alok Nath had gained enough public eye, to add it, the duo was also in the news for the chemistry they were sharing off-screen. Minding the role of the daughter-in-law by actress Neena Gupta both had been seen dating each other for a long time.
Although it was confirmed in the #Metoo movement of on, in 2018, Alok Nath had been accused of sexually violating and allegedly raping a veteran writer-producer approximately 20 years ago. I still can't replace the "Sanskari Babuji!"
3. Siddharth Shukla & Smita Bansal
Source: https://www.tellychakkar.com
One of the most popular shows of 2008, "Balika Vadhu", had a very non-identical tangent of girl child marriage and education, which got immensely popularized in the audience and critics. Actor Siddhart Shukla and actress, Smita Bansal, playing a very crucial role had been rumored of seeing each other.
Playing the role of Smita's son-in-law, Siddharth Shukla had been in news for a long time. And when asked about the insides, both refused to be together. Later, it was captured on social media that the duo took a vacation to Dubai.
4. Ankit Gera & Monica Singh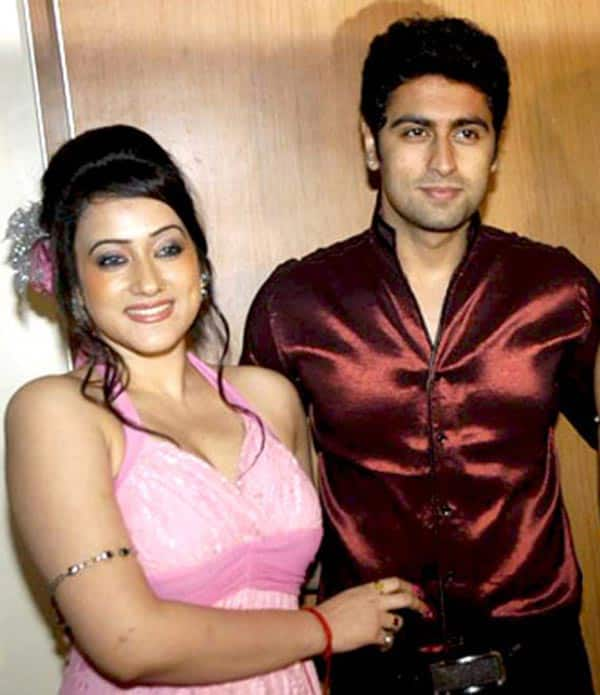 Source: https://www.bollywoodlife.com
A very successful show of 2009, Mann Kee Awaaz…Pratigya had been in news for its storyline. But along with it, the primary cast, actor Ankit Gera and actress, Monica Singh had been rumored of dating each other.
Representing the role of mother, Monica Singh never accepted about her relationship with Ankit Gera. Although, after separation, Monica Singh shared very heartfelt news of both of them planning to get married. But all went to waste!
5. Harshad Arora & Aparna Kumar
Source: https://jobsvacancy.in
A 2018 fantasy drama, Mayavi Maling on Star Bharat had enough approach for its content, but there was one more addition to the list. The leading actor, Harshad Arora and actress, Aparna Kumar had been in limelight for their dating sequence. Harshad Arora representing as Aparna Kumar's on-screen son had great chemistry offset. While confirming their relationship, the duo refused and quote to media that" they are very good friends and shares a special bond".
Playing closely some very fragile roles in the TV industry, couples tend to grow some intimacy off-screen leaving a bar of the age difference and reel character roles. But it becomes hard to believe when they are absolutely indifferent generation roles on TV. This generally happens when on-screen pairs have been famous, be it on TV or on the big screen.
The flowing chemistry, they bestow, and watching them in a continuous manner, triggers us to believe the fact that they are made for each other. Then forgetting the frontier roles they'd be playing in the on-going show or big screen, they neglect the generation cleft and hence, indulge in the relationship.
Above all, love is everything we have in common. So worry less about people and do what your heart says. We hope you find some motivation and entertainment in the above content. Happy reading to you all. Be safe and healthy!