Description: -The newly released movie Chhalaang intends to take you on a comical rollercoaster.
Director: Hansal Mehta
Main cast: Nushrat Bharucha, Rajkummar Rao
RT score: 75%
IMDb rating: 6.6
Genre: Comedy, Drama
Where to watch: Amazon Prime Video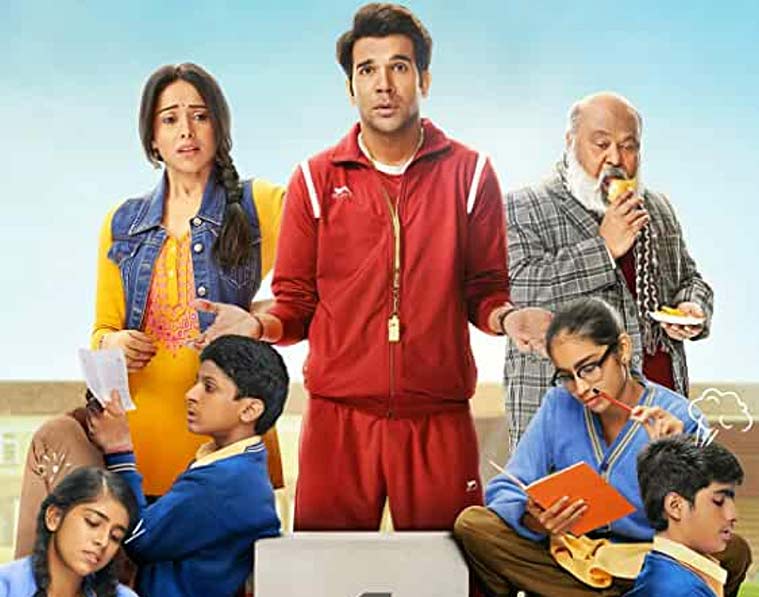 Story
The story revolves around a young PT teacher who faces stiff competition on the arrival of a new coach. His new job, love life, and self-respect are put on the line, and he might lose all if he doesn't pull up his socks.
Chhalaang Movie Review
Mahinder Singh, played by Rajkummar Rao, aka Montu, is someone who slacks off big time in his life both professionally and personally. Montu has very little purpose in life, and he tends to wake up long after the sun is up and wastes his time by loitering around his companion who is much older and is called Masterji who is played by Saurabh Shukla. He lands a job as a PT teacher because of his father, who is played by Satish Kaushik, who recommended him to the principal, who is played by Ila Arun.
He is not satisfied with his job because of his low dedication. When he isn't passing his time loitering around with Masterji, he takes upon himself to moral police the couples and giving instant punishments to valentine couples who are already pretty space-starved. During one such moral policing event, he picks on an older couple and considers them to be fooling around.
He shames them and to police, gets their picture published in a local newspaper. But luck has its eyes set on him and that couple happen to had a daughter Neelu, who is played by Nushrratt Bharucha, who joins the same school as Montu as a computer science teacher. Montu develops a sweet crush on her, but Neelu is obviously annoyed with him. Bollywood frenzy would obviously know where the story will head, but there is a twist that we love to see and write in this Chhalaang movie review.
A new PT coach IM Singh, played by Mohd. Zeeshan Ayyub, enters on his Royal Enfield, flexing his charms and clearly being the better version of Montu who has the potential to whisk away his job and girl in an instant. This was when our main character realized how he is slacking off, and all of his credibility is put at stake. What follows is sports action that happens when Montu full-fledged declares an all-out sporting war.
The evolution of the story is rather bland and focuses on the love triangle.
The focus and evolution of the story in the movie compel us to write this Chhalaang movie review from a critical point of view. The writers, Luv Ranjan, Zeishan Quadri, and Aseem Arrora had all the opportunity in their hands to make it an adrenaline-pumping sporty action script alongside it being a quirky love story too, but they entirely shifted their focus on just portraying it as a love triangle.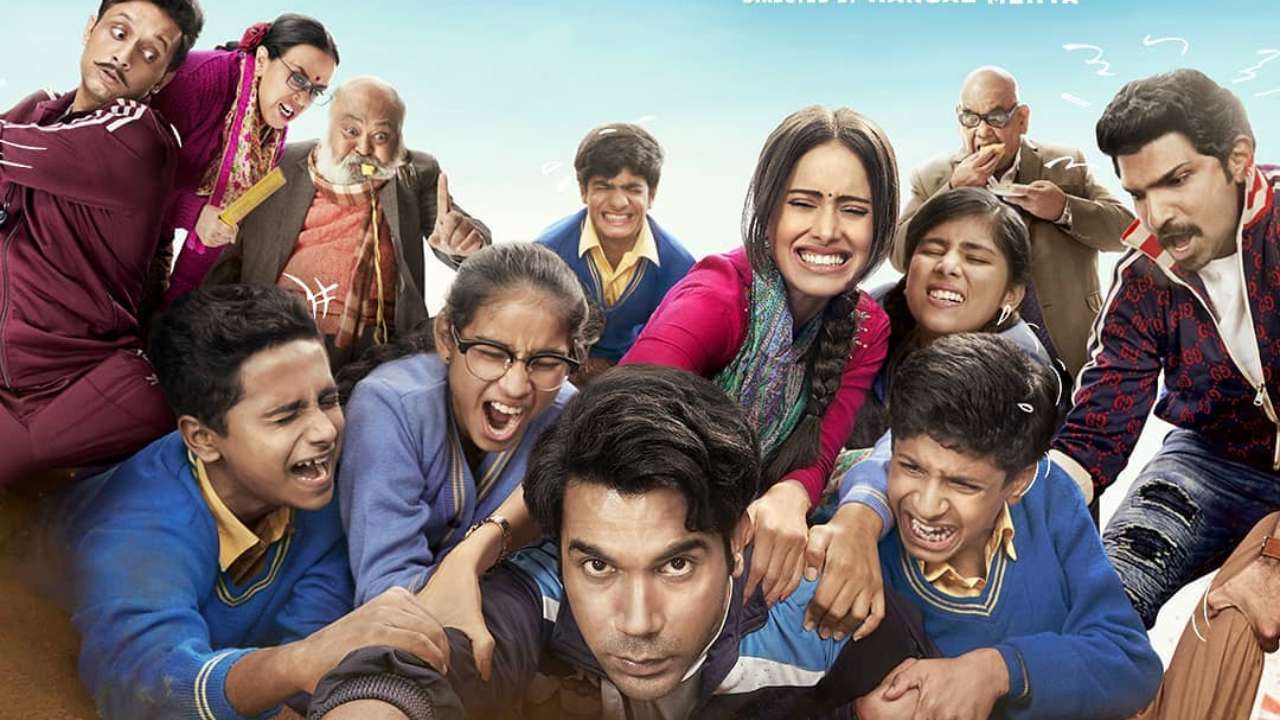 The second half of the movie is spiced up.
Chhalaang has its sequence of preparation by the slackers like in any other movie that with a pumping Daler Mahendi song playing in the background. A hefty screen time of the underdogs going off on the part of training and imparting lessons to the students are nicely and effectively portrayed. The students aren't very well introduced, which makes it harder for us to write elaborately about them in this Chhalaang movie review and to root for them.
The focus on women's empowerment and equality in this movie is rather forced and unnecessary. There aren't any enticing tracks in the movie except for 'Care niKarda' which comes right before the credits roll in and to be honest at this point, the Instagram reels have made it annoying too.
Also read- Khaali Peeli Movie Review
The actors have done a pretty great job in justifying the characters.
Rajkummar Rao has done a pretty commendable job playing the PT teacher; however, his demonstration of the small-town boy next door is redundant. Maybe in light of the fact that the narratives from rustic India are quite a dominant part of his filmography. Additionally, his unbendingly still hair looks kind of odd, in any event, when he is taking care of business on the games field.
Mohd. Zeeshan Ayyub, in his athletic symbol and wearing a moustache, possesses all the necessary qualities as a serious games teacher. Likewise, for the wonderful Nushrratt Bharuccha, who is by all accounts performing better with each passing film.
As a reformist new-age young lady, Bharuccha's character is the steady voice of reason. But it's the character actors, who take in most authenticity into the account and add the genuinely necessary lighthearted element. Among them is a brilliant Saurabh Shukla along with Ila Arun, Satish Kaushik, and a very charming Baljinder Kaur. She plays Montu's mom with the most extreme truthfulness.
The cast and their achievements
Raj Kumar Yadav, who is professionally known as Rajkummar Rao, is an actor whose wide range and acting accomplishments had to be included in this Chhalaang movie review. He has received some well-reputed awards like three filmfares, an Asia Pacific screen award, and a National film award among many others.
He is a Delhi University graduate who went onto pursuing an acting career by studying acting at the Film and Television Institute of India. He made his debut in Love Sex and Dhoka, released in 2010. He had several notable supporting roles like in Taalash and Gangs of Wassepur. He, however, made a name for himself when he landed himself a role in Kai Po Che!
His other notable works are in films like Queen, Trapped, Aligarh, Bareilly ki Barfi, and Stree.
Nushrat Bharucha is an Indian actress who debuted with a 2006 film called Jai Santoshi maa. The second film in which she acted was Kal Kisne Dekha and then got famous for her role in Pyaar Ka Punchnama which was a commercial success. Pyaar ka Punchnama 2 gave her, her biggest breakthrough. She went onto act in hit movies like Sonu Ke Titu ki Sweety and Dream Girl.
Mohammad Zeeshan Ayub Khan is an Indian actor who frequently appears in supporting roles and has worked in more than 25 films in his acting career of eight years. He has also worked in Indian serials like 'Kyunki…Jeenaisikanaamhai' which used to be telecasted on Doordarshan. He has also collaborated on four films with director Aanand L. Rai.
He bagged himself a negative role in the crime thriller. No one Killed Jessica and earned himself a nomination for best male debut actor in the Filmfare Award. He was also featured in the box-office hits like Shahid, Manikarnika, Mere brother ki Dulhan, Tubelight, Article 15, Tanu Weds Man: Returns, and Mission Mangal.
Also read- Mane Number 13 Movie Review: Conventional storyline with predictable twists
Contradicting Counterpart of Hansal Mehta's other direction
The film is an inquisitive contradiction to Mehta's Scam 1992, in that they're both tales about desire, or its absence — and the chances (or deficiency in that department) that India offers to its citizens. While most people are presumably similar to Montu, having agreed to the hand that life has given them, others like Harshad Mehta have a specific executioner sense that takes them to the top.
Yet, who's more fruitful — the large city tycoon who passed on unattended on a medical clinic seat, or the unassuming community fellow with zero possibilities, yet the young lady he had always wanted in his corner?
Final Verdict
The viewers find the story to be predictable with a few comedy punches and an overall great acting deliverance. A majority of the reviewers in IMDb call it a one-time family watch. The direction, cinematography, and lighthearted story make it a one-time watch, and this is something that the readers can conclude from this Chhalaang movie review.