Description- Several stories, each with different characters take place simultaneously until their paths collide. At the centre of all the chaos is a hardened criminal, Sattu Bhaiyya.
Director: Anurag Basu
Main cast: Rajkummar Rao, Fatima Sheikh, Abhishek Bachchan, Pankaj Tripathi, Aditya Roy Kapur, Sanya Malhotra, Rohit Saraf and Pearle Maaney.
Rotten Tomatoes Score: 77%
IMDb rating: 7.6/10
Genre: Comedy, Action, Crime
Where to watch: Netflix
Before we get into the plot and how the actors played their characters, we must understand what exactly this movie is out to show its viewers. This movie is similar to the hyperlink cinema, a trend started by Director Anurag Basu himself in 'Life in a Metro'.
However, the narrative in this one is nothing like Life in a Metro. This one presents itself as an allegory of the game of Ludo. The line –"Ludo is life and life is ludo" tries to portray a large range of meanings but it fails to deliver any of them in the absolute sense.
The first 30 minutes of the movie shows the excellence of Anurag Basu's direction and his young editor's (Ajay Sharma) work who does a fabulous job in handling such a multi-starrer project first-up. Each scene acts as a predecessor to the central character interlinking to each of the stories Ludo showcases.
There are shades of slapstick comedy in the form of "O beta Ji" song that is queued every time the central character in Sattu Bhaiyya engages in his encounters. This movie also features some great music in the form "Aabaad- Barbaad" song and a solid background score.
Here is our spoiler-free review of Ludo which is divided into parts, just like the movie itself-
Ludo Movie Review- Where it all starts off:
The movie starts with Sattu Bhaiyya (Pankaj Tripathi) bursting through a bathroom door to commit a murder that starts a chain of events that the viewers get to see later on in the picture. We get to see the brief introductions of the characters from the other 3 stories- An ex-couple (Aditya Roy Kapur and Sanya Malhotra) chase the source of their leaked sex tape and, a hustler in form of Alok (Rajkummar Rao) is led to a bizarre quest to free his one-sided love Pinky's (Fatima Sheikh) cheating husband from jail.
The remaining two stories feature Bittu Tiwari (Abhishek Bachchan), an ex-gangster who finds a friend in a little girl who fakes her own kidnapping. The fourth story features some new faces in the form of two misfits- salesman Rahul (Rohit Saraf) and Sheeja (Pearle Maaney) that are brought together by a suitcase of cash.
At the centre of this Ludo board is Sattu Bhaiyya (Pankaj Tripathi), a serial gangster who finds himself in a fire and ends up in a hospital.
Each story is colour coded to form the pattern of a Ludo board (hence, the title). These stories slowly but surely merge into each other at certain stages of the movie. However, it is the climax scene that descends the plot of the movie into complete chaos as all the mentioned stories collide at once.
Ludo Movie Review Part 1- The troubled ex-couple: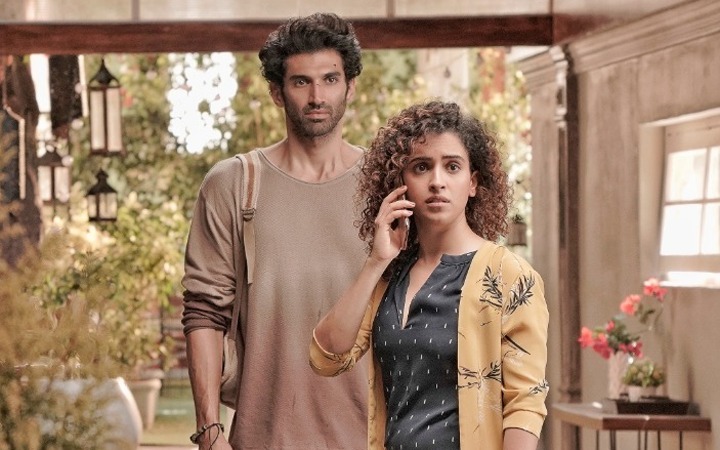 Akash (Aditya) and Shruti (Sanya) are two people with totally different views on life. The former finds solace in his ventriloquism-comedy and the latter finds the same in dating rich guys with a view to marry one of them. Akash is a man born in the wrong era as he believes in true love and wants the same in return of his own and, has very little monetary ambition. Shruti is a girl that wants a rich husband to fulfil her dreams.
They meet online and fix a date and, everything else follows suit. Among their many 'sex-capades', one hotel films them and leaks the video online just days before Shruti is to be married to someone else. Call it fate, call it luck, the ex-couple is brought together once again in a quest to find the source of the leaked video.
The chemistry between the two is there to be seen as both Aditya Roy Kapur and Sanya Malhotra portray their roles perfectly. Each scene is filled with to-the-point acting and excellent dialogue delivery. This part of the story may not be as thrilling minute-by-minute as the other stories but, it is equally important to the overall plot of the movie.
Interesting Read: 16 Best Kids Cartoons to Stream Right Now
Ludo Movie Review Part 2- The one-sided lover in dire straits:
Alok (Rajkummar) and Pinky (Fatima) are two people who have known each other since they were kids. Alok however, always had a major crush on Pinky but, there was no reciprocation of the same from her side. It ultimately led to Alok's feelings getting crushed as Pinky got married to someone else. Few years on, Pinky is shown to be in charge of child-rearing duties while her husband is out cheating on her. This ultimately results in the husband getting arrested for a crime he didn't commit and is jailed.
That is where Pinky goes to a now businessman-turned Alok asking for help. And he falls back to old habits and finds every possible way to help her out.
Rajkummar Rao magnificently plays a Mithun Chakrabarty fanatic. Fatima Sheikh is limited by her character in the part. However, their quests together keep the movie-going as it presents consistent chaos that the movie promised when the trailer came out.
Ludo Movie Review Part 3 – The man who loses everything:
Bittu (Abhishek) is an ex-gangster who had given up on a life of crime for love. This character is 50 shades of the dark with his love-ego mixed range of emotions showcased throughout the part. He and his wife had a little girl together until tragedy struck and he was jailed for a while. Upon release, he finds that his daughter has grown without the knowledge of his existence and that his friend is now the perceived father of the child.
So now, he wants his daughter (Ruhi) back out of love or ego that is subjective to the viewer's eye. He is denied by his ex-wife to get to his daughter. This angers him even more and ends up making him a lost soul in a movie not devoid of similar characters with different contexts of course.
Abhishek's character then finds a friend in a little girl who fakes her own kidnapping. She acts out to gain attention from her parents instead, ends up feeling at home with Bittu and they go on a trip. Bittu finds his daughter in the little girl while the latter finds a friend in Bittu.
Abhishek Bachchan acts out his role perfectly and his relationship with the little girl gives this chaotic movie a soft avenue.
Ludo Movie Review Part 4- Two out of luck misfits find each other: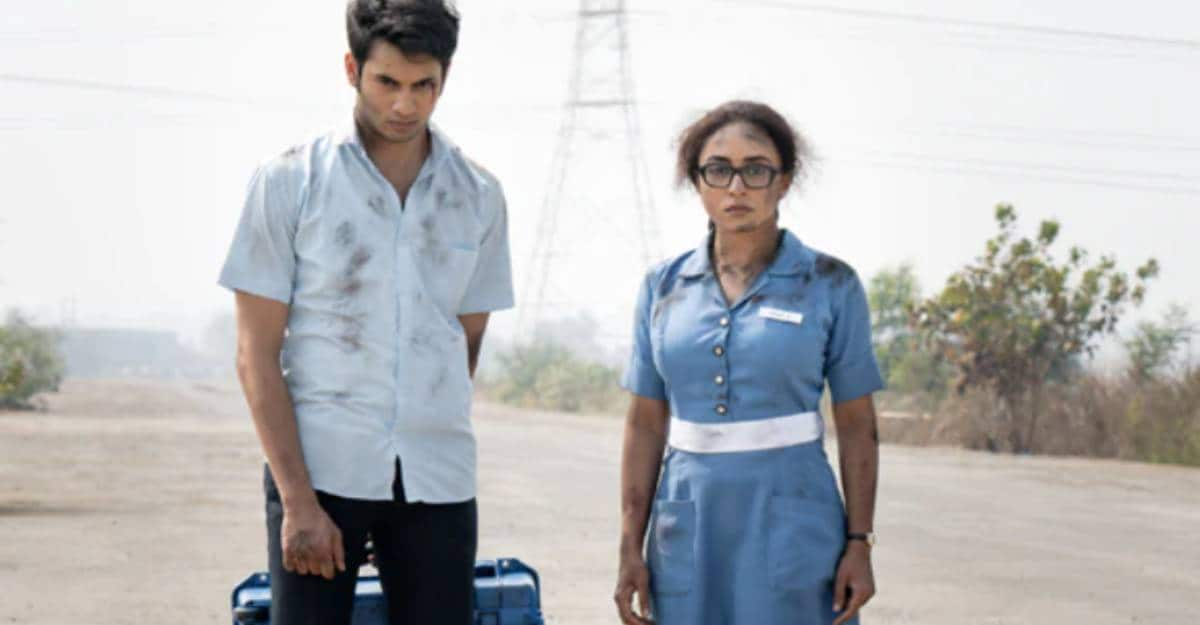 This part stars some new faces in the form of Rahul (played by Rohit Saraf) and Sheeja (Pearle Maaney) who are shown as down on luck people with big dreams and wants but, no money to support them.
Their workplaces are toxic and provide no respite to an already miserable time they are having. Rahul and Sheeja get caught amidst the chaos centred on Sattu Bhaiyya and find themselves with a suitcase full of cash. This cash has strings attached in the form of Sattu Bhaiyya's goons who are out to get it back.
It is really a commendable effort by the rookie actors to bring such vivid characters into life. The scenes that they have together make this part of the movie an exhilarating watch. Their expressions are on point and do justice to the weirdness the director I trying to portray through them.
Ludo Movie Review Part 5- Sattu Bhaiyya and chaos go hand in hand:
The serial criminal in the form of Sattu Bhaiyya is really the main point of the whole movie. Sattu Bhaiyya is a mafia boss and is way, way cooler than any of his previous roles with his leather jacket, spiky hairdo and colourful shades. He kills not to just kill but, to free one's soul so that they can start over fresh. He is involved from the very first scene till the very last.
The entire story converges on his story. Sattu Bhaiyya and his den get blown up by a gas leak which results in him landing at a hospital. There, this hardened criminal by habit turns into an affectionate person towards a nurse that is equally explosive in her behaviour. Thus, they find solace in each other.
Pankaj Tripathi plays this character with aplomb. His performance is perhaps the most appealing factor about this movie as it binds all of the chaos that unfolds, together.
Interesting Read: 8 Shows you can Finish Watching in Less Than 24 Hours streaming in India
The Final Word on LUDO:
Anurag Basu does an admirable job assembling and integrating the different stories and the different individuals that play it. The cinematography is a sight to behold and leaves the viewers awestruck for the initial parts of the movie. Ludo does not take itself too complicated as it follows the usual criteria of having a fantastic start, middle and a fitting end.
It has an excellent screenplay, complementing the sheer madness of the narrative. In a movie featuring so many sub-plots, it could easily have fallen apart but, it holds its own with beautiful zoom-out ludo board shown before switching to the next plot.
The middle part becomes a bit sketchy as they switch from one story to another becomes too repetitive and predictable. The ending is far too convenient and generic in most of its parts. All in all, this movie is a good watch and is not too long as it was perceived to be when the trailer came out. Here's hoping you find this Ludo Movie Review useful