Description: Three friends named Kasi, Madhu, and Vasu becomes obsessed with cricket betting in need of money. To repay the debt from Kasi's parents, Kasi, along with his friends, look for a way to pay them back. But little did they knew that a cricket betting could come with its consequences and mess with their lives.
Director: Praveen Varma
Main Cast: Naveen Chandra, Rakendu Mouli, Chandni Chowdhary
IMDb rating: 6.9
Genre: Drama, Thriller
Where to Watch: Aha
Super Over movie review is finally here, and it is not bad. Super Over has recently released Telugu movie. The Telugu language thriller movie was scheduled to premiere on 22nd of January 2021, but it was released to media the day before that. It was released on a platform called Aha, and the movie is buzzing since.
This Tollywood drama movie has proven wrong all of its alleged stereotypes of high-kicks and loud music. Although the movie isn't the biggest milestone of the year, it did manage to get an average amount of hits.
The story is simple, and here's how it goes. Kasi, Madhu and Vasu are childhood buddies. Kasi plans to go abroad and pays every possible amount of money to a consultant. But as it goes, the consultant was a cheat, and Kasi's money went down the drain.
Kasi then faced a tremendous amount of pressure from their parents and went out to look for a way to pay his parents back. That's when Madhu, the female character among the three friends went obsessed with betting on cricket matches.
But the story doesn't start there; it starts when Madhu wins her first bet, and she was well, it is safe to say addicted to betting.
On one fine day, Madhu wins a huge amount of money. The three friends remain to be astounded when they win 1.7 Cr. However, the director added a little bit of spice in this dramatic thriller. The bookie that set them up with the huge amount had something else in his mind.
Also read- The 25 Best Animated Movies Currently On Netflix
Super Over Movie Review–  The Story Focuses on one single night.
The main plot of this story is narrated on just one single night. It portrays the cat and mouse chase between the three friends and a cop named Ajay, who got his hand on their massive amount of money. After being introduced to cricket betting, Kasi becomes obsessed and eventually pro at it.
On one single night, their lives become upside down. The money that they just earned had a lot of eyes which made the three buddies worry. It was only a matter of time when a simple betting turned into a never-ending chase. The screenplay executed on this one single night was impressive says Super Over Movie Review. 
This entire night plot was beautifully excited with a good amount of crime and thriller.
Super Over earned more appreciation because of its strong screenplay and a good amount of twist and turn element that the movie held. The tough cop who gets hold of their money also gave an impressive performance on screen. The chasing element that was canned in one single night did come out quite impressive and kept the whole movie together.
The viewers are truly impressed by the fact that the movie takes no time to get straight into the plot, unlike, other thriller movies they like to over pile the storyline and result in a mess in the outcome. Although the backstory on the lead characters was not much stated in the movie, it was pretty clear what the three characters were like in the introduction of the movie itself.
Super Over Movie Review– The Technical aspects of this Drama/Thriller film
Overall the movie has received a lot of appreciation from the audience, but the hint of judgement is still present. After watching the movie, the viewers claim that some of the scenes between Ajay and the gang seemed afar from reality. Some scenes were unnecessarily stretched, and the audience seemed to catch it within a blink.
Moreover, the movie is based on only one cricket booking concept, and the screenplay is surprisingly thin, so even if the editors cut parts that may jeopardize the movie, the audience is still capable of pinpointing the mistakes. For instance, an entire cricket match running without any commercials of sort got the audience confused and unreal.
Super Over movie review says that after watching the entire 83-minute clip,  the ending was not up to the mark. Since a lot of questions were remained unanswered throughout the movie. Like, Ajay portrays the role of a tough cop and leaves the gang without any investigation for the crime.
It did seem a little phoney for the viewers, but at the end of the day, it is simply a story coming to life and made for the sole purpose of entertainment. To be honest, in the entertainment section, the movie did make its mark, and it was quite impressive how the narration of a story about a single night would turn out.
Watching this Telugu drama/ thriller reminds us of another story that was narrated in 48-hour plot. Dishoom, a Bollywood movie starring John Abraham and Varun Dhawan is playing as detectives finding a missing cricket player who later was found in his hotel itself.
This movie was also a power-packed action and thriller movie that made us sit at the edge of our seats. However, Super Over movie review was not able to compliment the movie in its thriller aspect. Yes. It had drama, it had a thriller, but it didn't quite make the audience satisfied.
Also Read- Coolie No. 1 Review: Identical plot but in a horrible way
Tragic Demise of The Director Praveen Varma.
Super Over movie was at its final stage of filming when the director Praveen Varma dies in a tragic road accident. Praveen Varma was previously a technician on film sets and was pretty excited when he was about to step in the director'sshoes for the very first time. Yes.
Super Over was Varma's directorial debut movie. Praveen Varma wrote a decent screenplay that was based on the concept of cricket booking, and it was pretty clear for the cast and crew. However, at its final moment, he could not witness the appreciation his movie is getting.
Super Over movie review collected more positive views than the negative ones. It also states that the negative aspect of the movie is minuscule when compared to the positive ones. The movie gains plus points in every aspect of cinematography. To properly execute the night plot, the movie crew was able to do just that.
By using frames and specific lights, it was accomplished wistfully. Unlike, another genre of Telugu movies, this movie has no song that perfectly fits the movie background and plot. I mean, can you imagine a bunch of dancers dancing to a piece of music while the gang is running through fences to acquire their hard-earned money. (*laughs*)
After the sad demise of Praveen Varma, the producer of the film Sudheer Varma stepped in. This noted producer's production value was nice and was able to execute the movie just like Praveen intended to do. Super Over movie review do appreciate the role Sudheer Varma played by stepping up and completing the story with a neatly written screenplay by Praveen Varma.
Even though Praveen did not witness his film's success, let's pay our respect to his wonderful family and offer our condolences to them.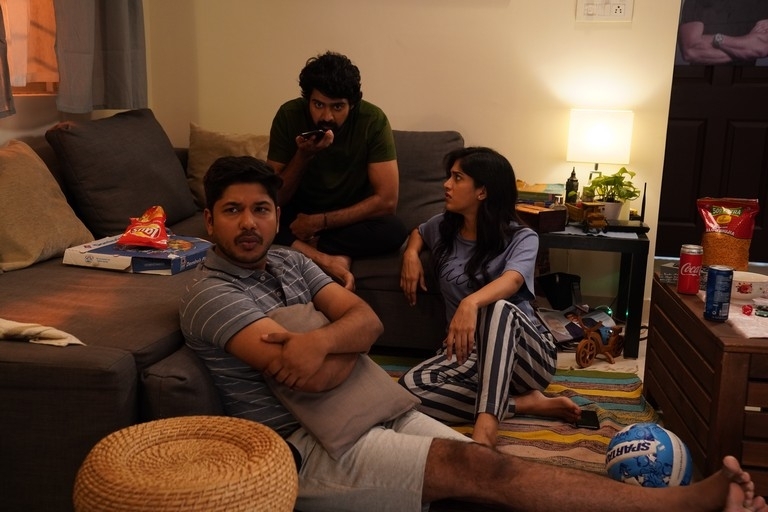 The Final Verdict
Super Over finally hits the screen, and it is labelled as a decent movie packed with thriller and drama. Three friends are on the road to face tons of obstacles that come between them and 1.7Cr. In a group of friends, there is always one scaredy-goody-goody friend that is successful in life and remains strong support for their friends.
Vasu, one of the main lead was just that. But eventually, he joins in the hunt of the money along with his friends. Super Over movie review claims that this Telugu thriller movie is watchable and entertaining. Although some things don't make sense sitting through those 83 minutes is certainly not a waste.
The viewers were also able to find minor characters that made the audience hooked to the screen. These new characters keep coming up with smaller plots and with twists and turns of their own. The movie also managed to add some comedy referencing to James Bond movies and other Telugu movies on certain occasions.
Although it is not sure that the movie is watchable by children since it contains foul language at various intervals. The adults watching the movie may find some scenes unconvincing but exchanging wits between the gang made the movie even better. Despite the Super Over movie review, the movie has gained an average number of viewers on the Aha platform within a short time.
Therefore, Super Over is streaming on Aha on the final note and making sure to stream this crazy-thriller movie!